By Lina Broydo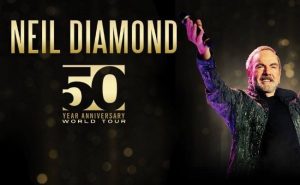 Neil Diamond Celebrates 50 in San Jose 
July 30 at 8 p.m.
What can you say about the music icon, Grammy Award winner and Rock & Roll Hall Of Fame Member, Neil Diamond that have not been said yet? Don't talk! Just join his world tour as he celebrates his unparalleled career spanning 50 years with a spectacular concert at the SAP Center in San Jose. Throughout an illustrious and wide-ranging musical career, Neil Diamond has sold over 125 million albums worldwide and has charted 37 Top 40 singles and 16 Top 10 albums both in the U.S. and internationally. A Grammy Award-winning artist, Diamond is a member of the Rock and Roll Hall of Fame, the Songwriters Hall of Fame and a recipient of the Sammy Cahn Lifetime Achievement Award, one of the highest honors bestowed upon songwriters.  Diamond's many other achievements include a Golden Globe Award, 13 Grammy nominations and 2009's NARAS's MusiCares Person of the Year award.  In 2011, Diamond received the prestigious Kennedy Center Honor for his lifetime of contributions to American culture.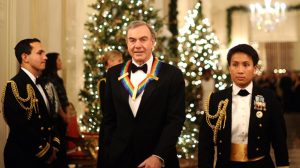 Tickets and Information
Prices range from $37 to $361
Parking $25
408-287-9200
SAP Center
525 W. Santa Clara Street in San Jose
Photo courtesy of SAP and Photo courtesy of Getty Images; : Neil Diamond received the prestigious Kennedy Center Honor for his lifetime of contributions to American culture.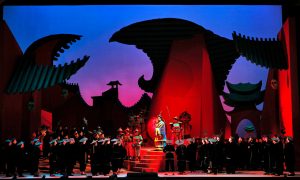 Extra, Extra with the San Francisco Opera
July 31 at 6 p.m.
Your dream and my can come true of being on the War Memorial Opera House stage without singing an area. Yes, it is true, my opera aficionados friends. The San Francisco Opera is looking for adult supernumeraries (extras) to appear in the Company's upcoming Fall 2017 Season  including a visceral production of Richard Strauss' Elektra, Jules Massenet's enchanting Manon, the highly anticipated world premiere of John Adams' Girls of the Golden West, and two repertory favorites, Giacomo Puccini'sTurandot and Giuseppe Verdi's La Traviata. An open audition will be held at the War Memorial Opera House and no previous experience is required and there is no fee to audition. Supernumeraries, also known as supers, act as extras (in costume and make-up) on the stage in non-speaking, non-singing roles.
Supers have the unparalleled opportunity to work alongside some of the most acclaimed artists in the world, and help bring San Francisco Opera's dazzling, large-scale productions to life on the stage of the historic War Memorial Opera House. Supers can be any age (adults only), shape or size. No previous experience required. These roles are non-speaking, non-singing and volunteer/unpaid (an honorarium is provided to those cast in a production). Good luck! See you at the audition.
Tickets and Information 
Free
Contact supers@sfopera.com to receive more information and reserve a spot for this exciting opportunity!
War Memorial Opera House
301 Van Ness Avenue in San Francisco
Photo courtesy of SF Opera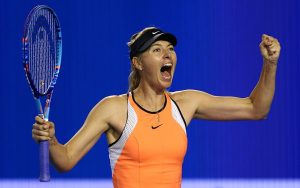 Bank of the West Classic
July 31 through August 6
The Russians are coming and this time it has nothing to do with hacking and politics. Two former number one players on the tennis circuit Maria Sharapova and Victoria Azarenka are heading to The Bank of the West Classic, the longest-running women-only professional tennis tournament in the world with Stanford University's campus at Taube Family Tennis Stadium as the first stop of the US Open Series. Sharapova is a five-time Grand Slam champion who has won 35 Women's Tennis Association's titles in her career. Azarenka, is a two-time Grand slam champion who will be making her fifth Bay Area appearance and first one after becoming a Mom in December, will turn 28 on the first day of this year's tournament. Happy Birthday Vicki! Should be a very exciting championship game if both Sharapova and Azarenka advance to the grand finale. I'll be there, for sure. Da, Da, Da!
Tickets and Information
Prices range from $34 to $191
For tickets call 866-982-8497
Taube Family Tennis Stadium at Stanford University
Campus Drive & Sam McDonald Road
Photo courtesy of Bank of the West Classic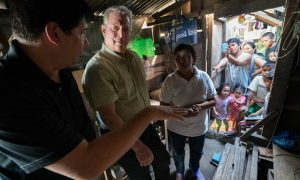 37th San Francisco Jewish Film Festival 
July 20 to August 6, 2017
San Francisco Jewish Film Festival is the largest and longest-running festival of its kind and a leader in the curation and presentation of new film and media exploring the complexities of Jewish life around the world. It attracts over 40,000 filmgoers and industry professionals and the screenings will take place at the historic Castro Theatre in San Francisco, the Landmark Albany Twin in Albany, the CineArts Theatre in Palo Alto, the Christopher B. Smith Rafael Film Center in San Rafael and the New Parkway Theater in Oakland.
A number of famous filmmakers and special guests are scheduled to attend the screening of their remarkable movies with a special appearance by former U.S. Vice President and an Oscar Academy Award winning producer Al Gore showing his acclaimed An Inconvenient Sequel movie. Opening Night: Keep the Change; Closing night: Bombshell: The Hedy Lammarr Story. If you are a movie lover as I am, take a three weeks vacation from work and watch the latest repertoire of the best movies showcased at this year's SF Jewish Film Festival. See you at the movies.
Tickets and Information
415-621-0523
contact jewishfilm@sfjff.org
Photo courtesy of Sundance Institute