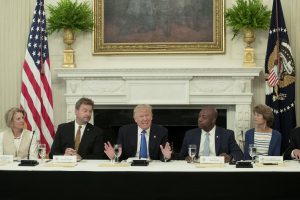 Washington, Jul 19 (EFE).- The leader of the Republican majority in the US Senate said Wednesday that he and his colleagues will make a renewed push to repeal and replace ObamaCare before the chamber adjourns for the summer.
Hours after dissension among Republicans appeared to torpedo the chances of passing even a stand-alone measure to repeal the 2010 Affordable Care Act (ACA), GOP senators were upbraided by President Donald Trump for failing to deliver a bill for him to sign.
"Next week we'll be voting on the motion to proceed, and I have every expectation that we'll be able to get on the (health-care) bill," Majority Leader Mitch McConnell said after Senate Republicans had lunch with Trump at the White House.
Last Thursday, McConnell presented a second version of the GOP alternative to ObamaCare.
The document included adjustments aimed at appeasing two groups of Republican holdouts: those who think the original draft didn't go far enough to dismantle the ACA; and others who say the proposal would cause too many people to lose insurance coverage.
Commonly known as ObamaCare, the ACA was the signature domestic policy initiative of Barack Obama's 2009-2017 presidency and Republicans have been running for years on a vow to repeal it.
The Republicans have only a two-seat majority in the Senate and it quickly became clear that the revised bill also lacked the votes to pass.
McConnell, adopting an earlier suggestion from Trump, then decided to hold a vote on a bill to repeal ObamaCare and create a two-year transition period for developing a replacement.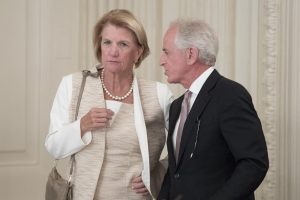 That approach collapsed Tuesday after a critical mass of GOP senators said they would not vote for such a bill.
Trump's initial response to the setback was to say that Republicans should just wait for ObamaCare to collapse.
"It'll be a lot easier. We're not going to own it. I'm not going to own it. I can tell you the Republicans are not going to own it. We'll let ObamaCare fail, and then the Democrats are going to come to us," the president said Tuesday.
On Wednesday, however, he took a much different stand.
"People should not leave town unless we have a health insurance plan, unless we give our people great health care. We're close, very close. We have to hammer this out and get it done," Trump told Republican Senators.
McConnell's about-face on the issue following the White House meeting left some of his Republican colleagues confused.
"I think there will be a lot more discussion before there's a motion to proceed," Sen. Lisa Murkowski of Alaska said, referring to a procedural hurdle that the Senate leadership must clear before calling a vote on a substantive bill.
Murkowski is one of four Republican senators who said they would not vote to repeal ObamaCare without a new plan in place.