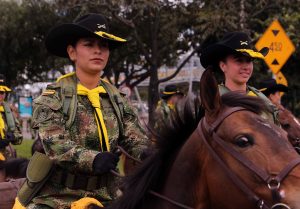 Bogota, Jul 20 (EFE).- Colombian celebrated Thursday's 207th anniversary of their country's independence with military parades involving thousands of troops and police officers in Bogota and other cities.
The motto of the parades was "La paz segura" (A Secure Peace) in a reference to the role of the armed forces in keeping order and protecting public institutions after the government signed a peace accord with the Revolutionary Armed Forces of Colombia (FARC) ending more than 50 years of conflict.
At the start of the event in Bogota, President Juan Manuel Santos bestowed medals to honorees from the army, navy, air force and police.
Nearly 10,000 members of the security forces marched past Santos, Cabinet ministers and other high-ranking officials.
Following tradition, the parade was led by the Bloque Heroes de la Patria (Heroes of the Homeland Bloc), comprising those wounded in combat and veterans of conflicts such as the 1950-1953 Korean War.
Armored vehicles, artillery, paratroopers, special forces and engineer units made their way past the reviewed stand as jet fighters and helicopters flew overhead.
National Police officers closed the demonstration while its members marched to the military bands mixed with popular songs, and floats representing different parts of the country, among them indigenous officers wearing traditional headdresses.