Washington, Jul 28 (EFE).- The Democratic minority leader of the US Senate invited Republicans Friday to work together with Democrats to improve the Affordable Care Act, otherwise known as Obamacare, hours after the failure of the upper house to partially repeal it.
"Nobody has said Obamacare is perfect. Nobody has said our health-care system doesn't need fixing," said Sen. Chuck Schumer on Friday, "but don't just take a knife and try to destroy it and put nothing in its place."
The US Senate rejected in the early hours Friday morning, thanks to the crucial vote of three Republicans including the influential John McCain, a bill to partially repeal the healthcare reform promoted in 2010 by the Democratic president at the time, Barack Obama.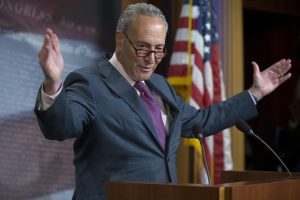 The replacement bill, rejected by a 51-49 vote against it, was considered possibly the final chance of President Donald Trump to keep his campaign promise to repeal and replace Obamacare, an obsession with Republicans for the past seven years.
Schumer praised McCain's courage and that of the two other Republican senators who voted against the bill, Susan Collins and Lisa Murkowski, and said he was "optimistic" that this new failure was a turning point and would lead to a new "bipartisan" negotiation.
Schumer expressed his hope that McCain's vote was a "magic moment" that changed everything and would lead Republicans to give up something that wasn't working and choose a different path.
The Senate minority leader said, however, "We would oppose an approach that eliminates the individual coverage requirement, does not offer alternative continuous coverage solutions and does not include measures to immediately stabilize the market."
The Democrat criticized Trump's response to the vote, particularly when the president posted on his Twitter account, "As I said from the beginning, let ObamaCare implode, then deal."
"People blame (the Republican leader of the Senate) Mitch McConnell. I don't think that's fair," Schumer said, "I think there were deep, deep fault lines in what our Republican colleagues tried to do," because the far right has too much influence in that party.
Also reacting to the vote in the Senate was the speaker of the House of Representatives, Paul Ryan, who said he was "disappointed and frustrated" because "the Senate was unable to reach a consensus," unlike the lower house, which last May successfully passed its own healthcare bill to repeal and replace Obamacare.
"But we should not give up. I encourage the Senate to continue working toward a real solution that keeps our promise," Ryan said in a brief statement.
Without commenting on the next step in matters of healthcare, the Republican said the House of Representatives would now move on to prepare a historic tax reform for this fall.