Washington DC, Jul 27 (EFE).- The Government of the United States on Thursday ordered family members of the US embassy staff stationed in Caracas to leave Venezuela due to the ongoing violence and the lack of food and medicine in the country.
The State Department also authorized the "voluntary departure" of US government employees from the American Embassy in Caracas, three days before the controversial elections of representatives to the National Constituent Assembly.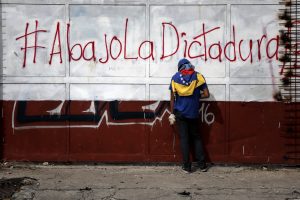 "The political and security situation in Venezuela is unpredictable and can change quickly," the new travel warning issued by the Department of State said, which replaces the previous one issued on Dec 15, 2016.
According to the new travel alert, since April 2017, "political rallies and demonstrations occur daily throughout the country," which generally "elicit a strong police and security force response", including the use of tear gas and rubber bullets against the demonstrators.
The State Department also said in the warning that "armed motorcycle gangs associated with the government frequently use violence to intimidate demonstrators," adding clashes in recent months have resulted in over 70 deaths.
On Jul 26, the US Government increased pressure on the Venezuelan government over its plan to hold elections for the National Constituent Assembly (ANC) on Sunday and imposed sanctions against thirteen Venezuelan officials and former officials, warning that if the Maduro regime proceeds with the elections, it could mark the "end of democracy in Venezuela".
Four of the thirteen Venezuelan officials were sanctioned by the US Treasury Department over their roles in promoting the Constituent Assembly or undermining democracy or human rights in Venezuela.
US President Donald Trump warned earlier in July that he would impose new sanctions on the Maduro government if it continued to hold the Constituent Assembly.