Washington DC, Jul 30 (EFE).- The United States government condemned Sunday the elections of the National Constituent Assembly in Venezuela and warned that it will take strong measures against its members, as well as the "architects of authoritarianism".

"We will continue to take strong and swift actions against the architects of authoritarianism in Venezuela, including those who participate in the National Constituent Assembly as a result of today's flawed election," US State Department spokesperson Heather Nauert said in a statement.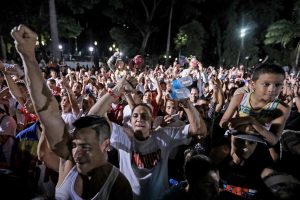 "We encourage governments in the hemisphere and around the world to take strong action to hold accountable those who undermine democracy, deny human rights, bear responsibility for violence and repression, or engage in corrupt practices," Nauert added.

According to official sources cited by the Wall Street Journal, the United States is planning to announce a new set of sanctions targeting the oil industry in Venezuela on Monday at the earliest, although an embargo on crude oil imports is not on the table at the moment.

Those sanctions would be added to those already imposed by the US government earlier last week on thirteen Venezuelan officials and former officials over their alleged human rights abuses, corruption and other actions undermining the democracy in Venezuela.

The US government, which had already expressed its rejection of the Constituent Assembly, condemned on Sunday "the elections imposed on July 30 for the National Constituent Assembly,which is designed to replace the legitimately elected National Assembly and undermine the Venezuelan people's right to self-determination."

Washington also denounced "the use of violence by the Maduro regime against citizens exercising their rights to freedom of expression, association and peaceful assembly," and expressed condolences to "all Venezuelans who have lost loved ones."

The Venezuelan Public Prosecutor is also investigating the incident in which 10 people died during the Sunday protests against the Constituent Assembly.

These latest victims bring the total death toll in the anti-government demonstrations that have begun since April 2017 to 119.

"On July 16, millions of Venezuelans overwhelmingly expressed – in a loud and clear voice – their rejection of a National Constituent Assembly designed to weaken democracy in Venezuela," added the spokesperson for the US Department of State.

"Nearly 234 years to the day after the birth of Simon Bolivar, who fought for the freedom of the people of Venezuela, President Nicolas Maduro has cast aside the voices and aspirations of the Venezuelan people," concluded the statement.

The opposition chose not to participate in the Sunday elections as they considered them "fraudulent" and an attempt by the government to establish dictatorship.

In the Sunday elections, Venezuelans were to select 545 constituent deputies, who in addition to having the power to rewrite the Constitution which has been in force since 1999, will be able to take the lead in reordering the State.