Los Angeles, Jul 31 (EFE).- Doctors in Los Angeles, while taking part in a program that provides fruit and vegetables for people suffering health problems that stem from malnutrition, have found their patients' health improves in 57 percent of cases, Kristyn Male, a spokeswoman for Eisner Health clinics, told EFE on Monday.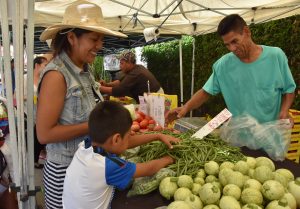 Male said that was the main discovery in the first year of the FVRx (Fruit and Vegetables Prescription program), which kicked off in June 2016 and whose beneficiaries are 95 percent Hispanics.
It was Chef Michel Nischan who first came up with the idea when in 2007 he founded the Wholesome Wave organization, which in 2010 launched a pilot project to provide fruit and vegetables with a doctor's prescription in communities around seven US states.
In Los Angeles the same idea was launched as FVRx, with the help of the Target retail chain, which donated $1.2 million to the cause, as well as Eisner Health in Los Angeles and six local farmers' markets.
The program continued until June 2017 when Target boosted its funding to $1.5 million, according to the retail chain's spokesman Lee Henderson, in order to include patients from Memorial Hermann-Texas Medical Center Hospital in Houston, and the Jesse Trice Community Health Center in Miami.
The program provides coupons for buying $1,000 worth of fruit and vegetables for a family of four over six months.
Luis Lopez, director of pediatric services at Eisner Health, told EFE that for lack of time or money, many patients at those centers "buy canned or processed food or fast foods that contain a lot of flour and sweeteners and too much fat. They're definitely not healthy."
In low-income neighborhoods, 35 to 40 percent of minors (ages 2-18) are overweight or obese. By ages 6 or 7, many show "signs of liver inflammation that comes from being overweight," he said.
According to figures on the Obesity Prevalence Maps of the Centers for Disease Control and Prevention (CDC), 36.5 percent of Americans are overweight.
Among Hispanics the percentage climbs to 42 percent, only surpassed by African Americans (48.5 percent), but for infantile obesity, Hispanics come out number one.
Gabrielle Langholtz, spokeswoman for Wholesome Wave, told EFE that as Chef Nischan puts it, poverty shouldn't be an obstacle to obtaining fruits and vegetables. The goal is for FVRx to become a nationwide program for all patients in poverty.