December 23, 1992
By Yolanda Reynolds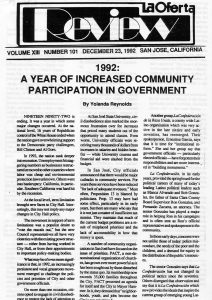 NINETEEN NINETY-TWO is ending. It was a year in which some major changes occurred. At the national level, 16 years of Republican control of the White House ended when the nation gave overwhelming support to the Democratic party challengers, Bill Clinton and Al Gore.
In 1992, the nation sank deeper into recession. Unemployment hit staggering numbers as businesses restructured or moved to other countries where labor was cheap and environmental protection laws unknown. Others went into bankruptcy: California, in particular. Southern California was hard hit by the recession.
At the local level, term limitation brought new faces to City Hall. Interestingly, this may not imply major changes in City Hall policy.
The movement in support of term limitations was a populist desire to "vote the rascals out," but the new Council representatives all have very close ties the existing power structure – either from having worked in City Hall, or from their appointments to important policy making bodies.
What may be of even more significance is that in 1992, an increasingly persistent and vocal grassroots movement emerge to challenge the policies and priorities of City and other government officials.
On more than one occasion, citizens opted to engage in civil disobedience to protest the lack of attention to the plight of the homeless.
At San Jose State University, civil disobedience also marked the enormous frustration over fee increases that priced many students out of the opportunity to attend classes. Even worse, University officials were receiving many thousands of dollars from increases in salaries and hidden benefits — while University courses and financial aid were slashed from the budget.
In San Jose, City officials announced that there would be major cutbacks in community services. For years, the services have been reduced "for lack of adequate revenues." Most often, Proposition 13 is blamed by politicians. Prop. 13 may have had some effect, particularly in its early years, but there are many who say that it is not just a matter of insufficient tax monies. They maintain that much of the current budget problems are a result of misplaced priorities and the lack of accountability in how that money is spent.
A number of community organizations in San José have focused on the issue of priorities. PACT, a non-denominational organization of churches, has grown ever more powerful as it has been sought out by those disturbed by the status quo. Its membership now exceeds 35,000 families throughout the City. PACT presented an agenda for itself and the City to Mayor Hammer. In ti, they demand that "neighborhoods, youth, and jobs become the youth, and jobs become the City's priorities."
Another group, La Confederación de la Raza Unida, a county wide Latino organization which was very active in the late sixties and early seventies, has reemerged. Their spokesperson, Ernestina Garcia, says that it is time for "institutional reform." She and her group say that government officials — particularly elected officials — have forgotten their responsibilities and are more interested in "building monuments."
La Confederación, in its early years, provided the springboard for the political careers  of many of today's leading Latino political leaders such as Blanca Alvarado and Bob Gonzales, the father of Santa Clara County Board Supervisor Ron Gonzales, and Fernando Zazueta, an attorney. The senior Gonzales has played a major role in helping Ron in his campaigns and is often sent as Ron's official representative and spokesperson to the community.
In those early days, concerns were not unlike those of today: police misconduct, the needs of the poor and the children, and a demand for equity in the distribution of the public's resources.
The senior Gonzales says that La Confederación him not changed its political tactics since the seventies. Others disregard that observation and say that it is La Confederación which now provides the ideals that inspire the current group of emerging young Latino leaders as well as others in the community.
Another organization, Direct Action Alliance, whose leading spokesperson is San Jose State University student, Juan Haro, has been pressing the Police Department and City Hall officials to stablish a civilian review Board for the City's Police Department. The City has compromised and now provides a police auditor to oversee the findings of the Internal Affairs Unit of the Department. The limited authority of such an auditor and the failure of similar offices in other cities has not calmed the unease that remains in the community; the public's fears and the debate has not ended. The controversy will likely continue into 1993.
The Redevelopment Agency of San José is coming under increasingly hostile and critical attack. Many in the community feel that the Agency has "run amuck" and that there is little, if any, official monitoring of its operation.
The agency, more often than not, runs millions over budget and seems to conduct business in a peculiar manner. An example is the practice of the agency to split contracts into sums under $20,000, thereby avoiding the need to follow a bidding process or to obtain agency Board approval – even though the total contracts to a company actually amount to tens of thousands of dollars.
The highly respected City Auditor, Gerald Silva, recently completed an audit of the Redevelopment Agency which recommends improved accountability.
The City's response was to create another Finance Committee whose membership will consist of members of the City Council who already serve on the Agency Board. The committee will oversee the Redevelopment Agency before taking final action as the City Council. it is hard to understand how forming a third group made up of the same people will improve the agency's accountability to taxpayers. Redevelopment has become so controversial that its activities are inspiring an alliance of very diverse community interests from all parts of the City which will likely coalesce in 1993 for further action.
Even the County of Santa Clara has filed a suit against San Jose's Redevelopment Agency for a violation of the agreement to end redevelopment in the year 2011. The Redevelopment Agency diverts property taxes that would normally go to the County's general fund. Many citizens and groups have emerged to oppose almost all of the projects Redevelopment has funded.
The increased participation of citizens in civic matters has already produced some real successes.
First, the was the "N0 on Measure G" arm campaign, whose leading spokesperson was Kathy Chavez Napoli, a local businesswoman who defeated the attempt to build a baseball stadium at great public expense in order to bring the San Francisco Giants to San Jose.
Though there was great disparity in the amount of money raised and spent o the opposing campaigns, the voters of San Jose saw through the flimsy claims of the pro-stadium forces and handed them a defeat.
Just recently, another group, the Mi Tierra Gardeners, won a partial victory when the City agreed to provide numerous mitigations for forcing them from their current location at 10th and Alma St. in order to make room for a double ice rink, "that is greatly needed by the community." Some have suggested that this great
need is less than obvious and others have called the proposed mitigations a bribe, since providing them will cost the City in excess of a quarter million dollars.
This issue will likely resurface, since the Parks and Recreation Department (which has responsibility for community gardens has been hit hard with budget cuts. The Community Center at Watson Park, one of the locations proposed as a site at which to relocate Mi Tierra Gardeners, has already been closed.
In the years ahead, the Gardeners will have to be vigilant in order to assure that the city honors these new commitments as well as the "Bill of Rights for Community Gardeners" that was adopted by the City in 1992.
Earlier in the year a group of San Jose residents formed an ethnic alliance, the Coalition For Effective Regional Planning, to protest the formation of another layer of government whose representatives would not be directly elected. The leading spokespersons of that group were university student John Morales and Eastside San Jose resident and attorney Dale Warner. They and others throughout the state were able to delay this plan – which won on the "fast track for legislative approval." This issue will likely surface again in 1993 under a slightly different guise, perhaps including direct elections and the elimination of the nine county governments in the Bay Area.
In 1992, San Jose was entertained by the music of several of the finest mariachis in the Americas. Mariachi Cobra and — the most famous — Mariachi Vargas de Tecalitlan. Many people came to hear them perform. Nonetheless. the event's promoters. The Mexican Heritage Gardens, Inc. reputedly failed to achieve their fund-raising goals for the First Annual San Jose Mariachi Festival.
Some people say that it does not matter that these programs have been a failure — nor in what manner they are achieved — since it is time that the Latino community received some attention. Others, like Ernestina Garcia of La Confederación. "If it's wrong, it's wrong." She maintains that, when there are pressing needs in the community, those needs must come first.
Nineteen ninety-three will prove to be a trying year since recent reports indicate that the economy is sinking worldwide, making domestic improvements even more difficul.t As a people, this nation will have to find creative ways to educate and care for its young while striving for full employment with adequate pay for our citizens' work. There are already too many people in San Jose who work two jobs but, even so, cannot afford to provide housing for their families.
For more information on La Confederación de la Raza call them at 408-262-6803. PACIT can be reached at 408-998-8001.Direct Action Alliance is on 408 929-7042. You can also reach your local City Councilperson at 408-277-4211. © La Oferta Newspaper.