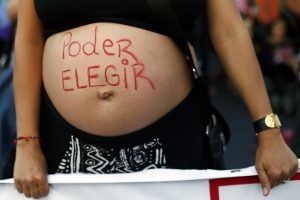 Santiago, Aug 2 (EFE).- The Chilean Congress on Wednesday approved a law that decriminalizes abortion in three circumstances, an initiative that will now pass to the Constitutional Court as the right-wing opposition attempted to refute it.

Led by President Michelle Bachelet's administration, the initiative legalizes abortion in case of fetal infeasibility, danger to women's life or health, and pregnancy from rape.

In a session that the ruling coalition described as "historic," with 22 votes in favor and 13 against, the Senate approved the report of a mixed commission on procedures in cases of rape to minors under 14 years old.

Hours earlier, the Chamber of Deputies had also approved a pending article stipulating that girls can have an abortion without the consent of their parents, with 70 votes in favor, 45 against and one abstention.

After the session, the Minister for Women and Gender Equality, Claudia Pascual, thanked all the parliamentarians for the debate.

"This is a historic day for Chile, because women's rights have triumphed. Reason and respect for diversity have triumphed. But above all, democracy has triumphed," said the chair of the Senate Health Commission Senator Guido Girardi, from the Party for Democracy (PPD).

Senator Girardi added that "as of the enactment of this law, women will be subjects of rights and will be able to make decisions of their lives, particularly when they are facing situations of fetal infeasibility, risk to their life and rape."

The government initiative will now pass to the Constitutional Court, after leaders of the right-wing coalition Chile Vamos submitted a 67-page request contesting the project.

According to the opposition, the initiative, which was one of Bachelet's main agendas in the 2013 presidential campaign, is contrary to the Chilean Constitution, as it "legalizes direct or induced abortion" and also "orders and imposes the obligation to do so on third parties," while the Constitution "protects the life of the unborn."