Caracas, Aug 7 (EFE).- Venezuela's new attorney general, Tarek Saab, said Monday that he will seek "to reestablish public peace" and will promote justice with equity, at the same time adding that former AG Luisa Ortega Diaz was "complicit" in the violence that has beset the country over the past four months.
Saab, at a press conference, said that he will attempt to achieve equilibrium in the country, promote "justice with equity (and) human rights" and work for "public peace."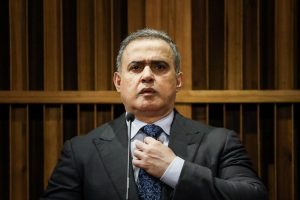 The new chief of the Public Ministry said that his duties will be to "improve" and "move forward," as well as to recover "the institution's credibility," which – in his judgment – has been lost "in recent times."
He also said that his predecessor was "complicit" in the violence that has affected the country over the past four months, a period during which a wave of anti-government protests against President Nicolas Maduro has unfolded, leading to more than 120 deaths and more than 1,000 people injured.
He said that Ortega had acted "against the peace of the republic."
"I have not the slightest doubt. Since the first statement (she gave) on March 31 (when she declared the rupture of the constitutional order) … up until the most recent one she gave before becoming the ex-attorney general," he said.
Saab said that each statement Ortega gave during that time caused "serious damage to the democratic institutions" of the country and put "public peace" in danger.
He said that Ortega – with every public appearance she made – merely "threw wood onto the fire."
Since April 1, the opposition has been staging demonstrations that have led to 121 deaths, a situation that became more acute on Friday, when the government-promoted constitutional assembly was installed with the task of reorganizing the state and rewriting the constitution, although the opposition has not recognized it, and neither have assorted governments around the world and international organizations.
Another element was added to the ongoing crisis on Sunday when about 20 men dressed in military garb and equipped with rifles apparently mutinied at a military base, leaving two people dead and eight under arrest in Carabobo state.