By Lina Broydo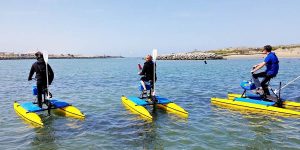 Summer Fun on Monterey Hydrobikes 
Bikes on water? Absolutely! Get a two-hour hydrobike rental and explore Moss Landing's Elkhorn Slough Natural Estuarine Research Reserve.
This is nature at its best as you pedal along the main channel's 7 miles of live fish, crabs, sea lions, otters, harbor seals,  and over hundreds – more than 346 to be exact – of species of birds.
Its fun, its safe and its adventurous. Here are some additional facts about the hydrobike: the human-powered craft travels up to 8 mph; it is stable to a point that you will stay dry; the hydrobikes have a built-in storage for all your belongings, plus two cup holders for water or something more delicious. Enjoy and play a tourist in your own state.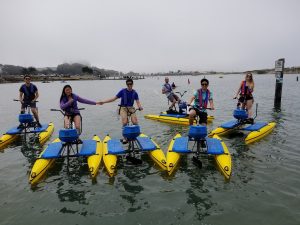 Tickets and Information
Prices range from $60 to &120
831-238-6764
Monterey Bay Hydrobikes
2370 Highway 1 in Moss Landing
Photo courtesy of MBH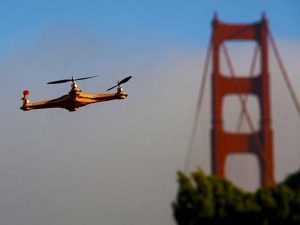 Nano Drone Workshop in San Carlos
August 19 at 10 a.m.
 Before you apply to Stanford University or work at Google, learn to fly a tiny, camera-equipped drone using First Person View (FPV) technology in a special workshop at the Hiller Aviation Museum, a Smithsonian Affiliate. Micro-scale drone racing is the fastest, easiest way to become a drone sports pilot.  This special 2.5 hour program presented by Aerial Sports League and the Hiller Aviation Museum features a tiny but powerful quad-rotor helicopter with integrated camera and FPV Watch, a screen system that provides a drone's eye view of flight to the pilot at the controls.
Students learn the basic by building their own micro-drone from scratch, with hands-on help and guidance from ASL's professional pilot instructors.  Students then learn to fly, starting with basic hover-and-land skills to more advanced racing techniques.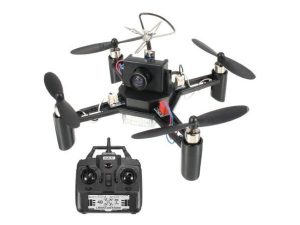 All equipment needed to operate the nano drone including, battery and charging equipment, is included. The Hiller Aviation Museum, founded in 1998 by helicopter designer and inventor Stanley Hiller Jr.  celebrates the spirit of discovery and innovation of aviation pioneers whose creativity made the dream of  flight a reality.
 Tickets and Information
Prices start at $179
Pilots ages 10-14 must be accompanied by an adult
650-654-0200
Hiller Aviation Museum
601 Skyway Road in San Carlos
Photo courtesy of Hiller Museum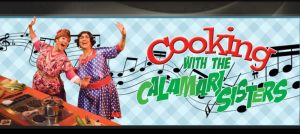 Cooking with the Calamari Sisters in San Jose
August 17 – 20
Mangia Italiano! Here is a cooking show with no calories gained. Hilarity, delicious dishes and two over-the-top plus-size Italian Sisters from Brooklyn who star in their very own fictional cable television show. Take a culinary journey on a Tour de Force of Italian, pop & show tunes and cuisine as they sing, dance, joke, and laugh through a very special cooking lesson! Straight from sold out engagements across the country, Delphine & Carmela perform outrageous musical numbers, while designing their latest gastronomic offerings.
Expect a bit of naughtiness when they update their treasured family recipes with saucy secrets and anecdotes that will leave you rolling in the aisles. You may get a chance to sample these two sisters' kitchen creations. Be prepared to eat your heart out and laugh until your sides hurt.
Tickets and Information
Prices range from $45 to $65
855-448-7469
The Montgomery Theater
271 South Market Street in San Jose
Photo courtesy of Play House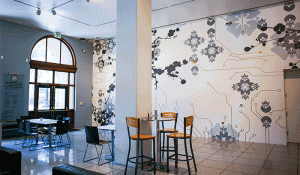 The Valley of Hearts Delight at San Jose Museum of Art
Meet artist Julie Chang on August 17 at 6 to 8 p.m.
Just a remember: it is not all about the chips and technology in Silicon Valley. Now you can enjoy the magnificent new mural by artist Julie Chang as you sip ever so slowly your cup of cappuccino at the museum's cafe. The stunning patterns and images in the vinyl mural reflect the Santa Clara Valley's agricultural history before it became so high-tech. Plum branches and blossoms grow from the corners while abstract "dim sum" (Cantonese for "heart's delight") intersect with branching Snday morning dim sum paths that  reference the circuit boards of early microchips. And now when you enjoy a Sunday morning's "dim sum" culinary outing you will remember that it means a "heart's delight" or is it your tummy's  delight?
Tickets and Information
$10 for adults, $8 for seniors, $5 after 5 p.m.
The reception for Julie Chang is free with museum's admission
408-
www.sjmusart.org
San Jose Museum of Art
110 South Market Street in San Jose
Photo courtesy of SJ Museum of Art