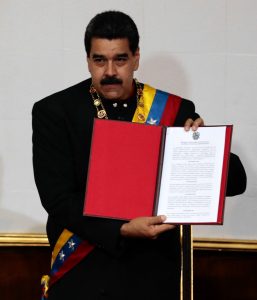 Caracas, Aug 10 (efe-epa).- The Venezuelan Constituent Assembly on Thursday ratified Nicolas Maduro as head of state and of government, as well as the "commander-in-chief of the Bolivarian National Armed Forces" (FANB).
The Constituent Assembly unanimously approved Maduro "as constitutional president of the Bolivarian Republic of Venezuela, head of state and government, commander in chief of the Bolivarian National Armed Forces," said the agreement read by the constituent member Aristobulo Isturiz during a special session.
The text states that Maduro "has fully complied with all his constitutional duties and obligations" and that he is also "a fundamental support" for the Constituent Assembly's decisions.
In addition, the Constituent Assembly considers the president as "a guarantee for the current democratic process of integral transformation" of the country.
The Constituent Assembly on Thursday held its third plenary session with a special convocation attended by Maduro.
During this session, which took place in the Legislative Palace, Maduro gave a speech of approximately three hours and handed over his draft Constitution to the Constituent Assembly, claiming that it is the same as that of the late
President Hugo Chavez (1999-2013), his predecessor.
The Constituent Assembly was elected on Jul. 30 and has more than 500 members, all related to the Maduro government, with the mission of solving the country's crisis.
With almost unlimited powers, this body has been rejected by the Venezuelan opposition and not recognized by much of the international community.
The Constituent Assembly has the power to dismiss and appoint any state authority, dictate and reform laws and implement decisions without having to go through any other power, as it recently did with the controversial dismissal of Attorney General Luisa Ortega, following a brief confrontation between her and Maduro.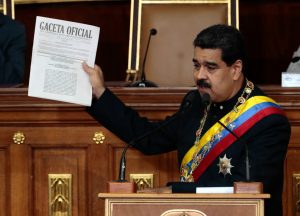 Maduro submits his draft constitution to Constituent Assembly
Caracas, Aug 10 (efe-epa) .- The Venezuelan President on Thursday submitted his draft constitution to the National Constituent Assembly for evaluation and discussion among its pro-government members.
"As I promised, I want to present to this great Assembly my draft Constitution for the Bolivarian Republic of Venezuela, the bill we approved in 1999, that is my project, that is our project, to perfect the 1999 Constitution,"
President Nicolas Maduro said during a special session of the Constituent Assembly.
From the Federal Legislative Palace, the head of state said that the draft Constitution is the same as the one of the late former President Hugo Chavez.