Bangkok Desk, Aug 14 (EFE).- Guam Governor Eddie Calvo said Monday that local authorities were prepared for the worst scenario, in case North Korea carries out its threat to launch missiles into the sea near Guam.
Calvo said there were no changes in the security level and asked both locals and tourists to go ahead with their plans normally.
"Although there is no heightened threat level, it is important to inform the public of all contingencies", said Calvo at a press conference broadcast live on Facebook.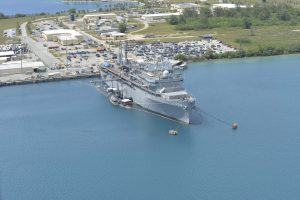 "If (a nuclear attack) were to occur, then you're seeing not only catastrophe in the Marianas, you're not only seeing catastrophe in the Korean peninsula, catastrophe in Japan, but the world," added Calvo.
The governor and security adviser George Charfauros appeared confident about the anti-ballistic missile defense system deployed by the United States on the island and the preventive measures put in place by Seoul and Tokyo.
"The chances of a missile getting through the various layers of defense, both of US military and our allies, is 0.000001 percent," said Charfauros.
Pyongyang had said Thursday it was making a plan to launch four missiles mid-August into the territorial waters of Guam, an unincorporated US territory with a population of 163,000 that is located some 3,430 kilometers to the southeast of North Korea.
Defense experts estimate that the intermediate-range ballistic missile Hwasong-12 would take between 14 and 15 minutes to reach Guam from North Korea.
Calvo said 14 minutes would not be enough time to run or evacuate, but it was possible to inform people beforehand about what to do in case of an attack.
Charfauros added that no evacuation plan had been planned because it would be chaotic with such little time available.
Guam Homeland Security had released a factsheet Friday telling people how to prepare for an attack.
The governor remarked that given its location in the west-Pacific, Guam faces powerful typhoons and earthquakes, and as a result the infrastructure on the island and its buildings were the most resistant of the US.
Even in 2013, Pyongyang had threatened to attack Guam, because of it being a strategic base for the US in the Pacific, with 6,000 troops stationed and B-1B bombers with nuclear capacity operating from the island.