Washington DC, Aug 15 (EFE).- The leader of the largest federation of unions in the United States, AFL-CIO, on Tuesday left the US President's American Manufacturing Council over the president's indifference towards the racist incidents in Charlottesville, Virginia.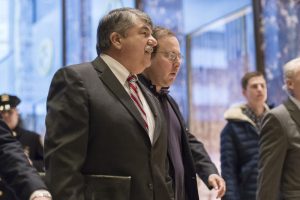 President of the 12.5-million-member AFL-CIO, Richard Trumka announced his immediate resignation, stating that it is impossible to "sit on a council for a president who tolerates bigotry and domestic terrorism."
"President Trump's remarks today repudiate his forced remarks yesterday about the KKK and neo-Nazis," added Trumka, who was the fifth member of the council to tender his resignation in the last 24 hours.
In addition to Trumka, the other four include Brian Krzanich, chief executive of Intel; Kenneth C. Frazier, chief of Merck; Kevin Plank, the founder of Under Armour; and Scott Paul, president of the Alliance for American Manufacturing.
The five members of the American Manufacturing Council resigned in protest over US President Donald Trump's reaction to Saturday's incidents in Charlottesville, where a neo-Nazi killed an anti-racist woman participating in a rally against white supremacists.
As he did on Saturday, the president said Tuesday that "the two sides" shared the blame of racist violence in Charlottesville.
"You had a group on one side that was bad, and you had a group on the other side that was also very violent," Trump said in a very controversial statement, for which he is receiving a flood of criticism.
Regarding business leaders, Trump linked their departure from the council with his government's pressure on them to manufacture their products in the US, and belittled their resignations.
"For every CEO that drops out of the Manufacturing Council, I have many to take their place. Grandstanders should not have gone on," Trump wrote on Twitter.