Washington, Aug 16 (EFE).- The president of the United States dissolved two business adversary councils on Wednesday after several chief executive officers quit over his remarks about last weekend's violence in Charlottesville, Virginia.
Those same comments also have sparked condemnation from Donald Trump's fellow Republicans, who accused him of drawing a moral equivalence between neo-Nazis and the leftist activists they clashed with on Saturday.
Trump disbanded the American Manufacturing Council, which had seen a gradual exodus of its members – including the CEOs of Intel, Merck, Under Armour and the president of the US's largest labor federation, the AFL-CIO – since Monday, and the Strategic and Policy Forum, whose members decided to step down en masse on Wednesday.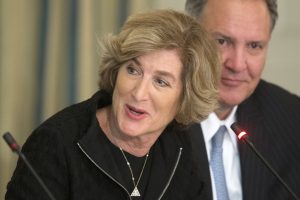 "Rather than putting pressure on the businesspeople of the Manufacturing Council & Strategy (sic) & Policy Forum, I am ending both. Thank you all!" Trump tweeted.
Fifteen members still remained on the manufacturing council, including the CEOs of Boeing, General Electric, Dow Chemical, Lockheed Martin and Johnson & Johnson.
Trump was broadly criticized for his remarks at a Tuesday press conference about the events in Charlottesville, where white supremacists had obtained permits for a Saturday rally to protest plans to remove a statue in that city of Gen. Robert E. Lee, the army commander of the pro-slavery Confederacy during the 1861-1865 American Civil War.
Although Virginia's Democratic governor declared a state of emergency and canceled the rally before it was scheduled to begin, clashes broke out between protesters and counter-demonstrators.
The situation turned deadly Saturday afternoon when a suspected neo-Nazi plowed his car into a crowd at an intersection in Charlottesville, killing one female counter-protester and injuring more than a dozen other people.
On Tuesday, Trump grew irritated at journalists who pressed him to more vehemently denounce the far-right protesters and said leftist activists had also acted lawlessly.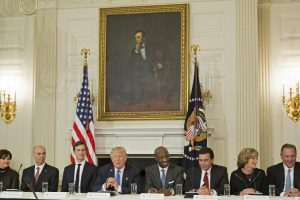 "You had a group on one side that was bad. And you had a group on the other side that was also very violent. And nobody wants to say that, but I'll say it right now. You had a group – you had a group on the other side that came charging in without a permit, and they were very, very violent," the president said.
In his most controversial remarks, Trump spoke favorably of some of the people protesting the removal of the statue.
"Not all of those people were neo-Nazis, believe me. Not all of those people were white supremacists by any stretch."
Trump's remarks have been criticized by several prominent members of his party, including Sens. John McCain and Marco Rubio; the speaker of the House of Representatives, Paul Ryan; and Senate Majority Leader Mitch McConnell.
"There are no good neo-Nazis, and those who espouse their views are not supporters of American ideals and freedoms. We all have a responsibility to stand against hate and violence, wherever it raises its evil head," McConnell said.
Two former Republican presidents – George H. W. Bush and his son, George W. Bush – issued a statement shortly after Trump's remarks.
"America must always reject racial bigotry, antisemitism and hatred in all its forms," the Bushes said, without referring to white supremacists.