Cocorna, Colombia, Aug 17 (EFE).- Colombian President Juan Manuel Santos on Thursday expressed his hope that the country will have cleared half its territory of landmines by the end of his mandate – Aug. 7, 2018 – and will be completely free of such explosives by 2021.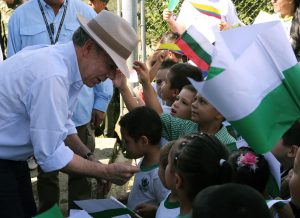 "We have a roadmap from here to the end of (my) administration to reduce by half (the Colombian territory containing landmines)," said Santos in Cocorna, one of the 14 municipalities that has declared itself to be free of explosives.
The president said that the country has "52 million square meters (20 square miles) contaminated" with landmines, adding that by the end of his term in office there will be half that.
"In two years, we've done what had been planned for 10 or 20 years," Santos said.
Colombia is considered to be the country with the second most landmines in the world, following Afghanistan.
Santos emphasized that dealing with the situation requires "coordination and financing by the international community."
The president also said that currently there are 11 organizations removing landmines from Colombian territory, in addition to an army battalion specially detailed for the project.
Among the organizations at work on the task is Humanicemos DH, comprised of former guerrillas of the Revolutionary Armed Forces of Colombia (FARC) "who were the ones who planted those mines."
The International Campaign to Ban Landmines issued a report in November 2016 saying that the goal of making Colombia landmine-free by 2021 is unrealistic, given that it is unknown precisely where all of them are, but Santos said that with the current rate of work on the project it is possible, saying that completing the task will be "an example for the world."
"We know how difficult it is, but when Colombians propose something, we achieve it. We're going to set this as our goal: Colombia free of mines by 2021," he said, adding that of the 673 municipalities that were contaminated with mines, 166 have already been completely cleared.