Sayulita, Mexico, Aug 17 (EFE).- The town of Sayulita is one of the most attractive destinations on Mexico's Pacific coast not only for its rustic character but also because of the possibility it offers to surf or swim on the "Beach of the Dead," which one accesses by passing through a cemetery.
The town of some 2,300 residents is located on the border of Nayarit and Jalisco states, some 40 kilometers (25 miles) from Puerto Vallarta.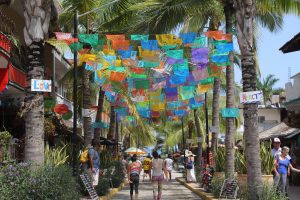 The beauty of its beaches and its relaxed pace of life for more than a decade have been attracting tourists from Canada, the US and Europe – and more recently Australians – Richard Zarkin, the general manager of public relations for the Nayarit Riviera Visitors and Conventions Office, told EFE.
According to travel agencies, the town was Mexico's most-visited destination in 2016 and it is continuously recommended on the Internet as one of the country's must-see spots.
Sayulita was declared a "magic" town in 2015 for its cobblestone streets, cafes, pizzerias, art galleries and small hotels.
Many of its residents are avid surfers, and they regularly show local children and tourists how to "ride a wave."
The town has produced a number of national and international surfing champions, including Adrian Rodriguez, a third-generation surfer.
The 29-year-old owns the El Costeño surfing school and told EFE that his passion for the waves started when he was 6 and has gotten even stronger now that he's represented Mexico in several competitions.
The magic of the sport is that "there are no limits. You can take a surfboard the enjoy yourself and catch waves. If you feel comfortable there, you'll stay, but if you want to get more professional … you can take it as far as your vision allows," he said.
Sayulita "is an internationally known place because it allows little kids to ride the waves," he said, with or without formal classes.
The town also offers quiet relaxation for tourists. The road running along the main beach also leads to the "Beach of the Dead," hidden behind the municipal cemetery.
The site is adorned with colored tombstones, several surfboards, flowers, candles and paper flags that contrast with the deep green of the hill on which the cemetery is located.
"I like it here because you can hear the waves. It's a tranquil place. It's a very special cemetery, it's quite different.
It's very personal, the decoration on the graves with candles and flowers is nice," Julia Fernandez, an American who has settled in Sayulita, told EFE while she lit candles in memory of her son and some 40 other people.