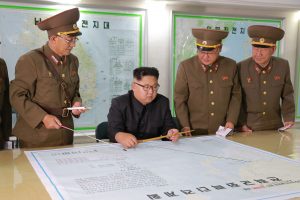 Seoul, Aug 18 (EFE).- The United states and South Korea are set to go ahead with annual joint military drills next week despite rising tension between Washington and Pyongyang, according to a South Korean military source.
The two allies will be carrying out the annual military drills Ulchi Freedom Guardian – the world's largest computerized command and control exercise – beginning Aug. 21, involving deployment of tens of thousands of troops.
"This year's military drills will be a similar size to those conducted last year," a spokesperson for the Joint Chiefs of Staff said during a press briefing, reported Yonhap news agency.
"Nothing about the Ulchi Freedom Guardian Exercises has been made official yet," a US Forces Korea spokesperson told EFE.
However, a US defense spokesperson had said earlier this week that Washington was keen to go ahead with the drills despite speculation that the drills might be canceled or scaled down owing to recent North Korean threats to attack Guam.
In 2016, 25,000 US soldiers and 50,000 South Koreans soldiers took part in this 12-day exercise aimed at coordinating US and South Korea's defenses against a possible North Korean attack.
North Korea believes these drills to be rehearsals for attacking its territory and responded to the 2016 drills by launching a ballistic missile from a submarine.
The joint military drills this year come after a verbal spat, the worst in the past few years, last week between Washington and Pyongyang.