Punta del Este, Uruguay, Aug 18 (EFE).- The first undersea fiber-optic cable connecting the United States with Uruguay, which reached the Uruguayan city of Punta del Este this Friday to complete the final stage of its installation, assures the South American country of its telecom sovereignty and makes it an international Internet provider.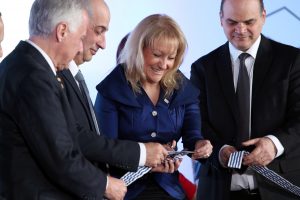 Uruguayan authorities announced the landmark event after a ship brought the cable connection to Brava Beach in Punta del Este from the Brazilian city of Fortaleza, thus completing the final stretch of its 12,000-kilometer (7,500-mile) extension from its starting point in Boca Raton, Florida.
"There's no better infrastructure for building sovereignty," said Uruguay's Industry, Energy and Mines Minister Carolina Cosse after the cable arrived.
"We need the capability to define our own destiny and to build a technology-and-science-intensive economy, one that is not just development for its own sake but that will also create better jobs for our young people and will allow us to enrich our culture," she said.
For his part, Andres Tolosa, president of the Antel state telecom company, said the newly arrived undersea fiber-optic cable provides Uruguay with "awesome sovereignty and independence" and the ability to become an international provider of Internet access.
"From Uruguay we'll be able to sell access to other countries in the region, to Argentina and Brazil and from those countries to Chile and Paraguay," Tolosa said.
The undersea cable project was first set in motion in 2012 and was signed in 2014 between Uruguay and the US company Google with a total investment by Antel of $73.8 million.
The cable can last as long as 25 years.
The section from the US to Brazil is already functioning and by the end of this year the final 2,000-kilometer stretch is expected to be operative through the connection that reached Uruguay this Friday.
From the beach, the cable will be laid underground to a reception center of other cable systems that Antel has in this region of southeastern Uruguay.
The project "is the steam engine of the 21st century," Cosse said, comparing it to what that transport invention meant to the rollout of the Industrial Revolution.