Tokyo, Aug 23 (EFE).- The United States Navy Wednesday dismissed the commander of the 7th fleet after a guided-missile destroyer, belonging to the fleet, collided with an oil tanker near Singapore leaving 10 sailors missing, according to a statement.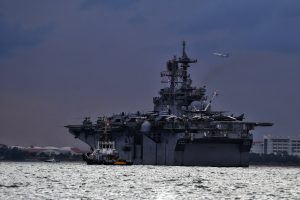 Vice Adm. Joseph P. Aucoin, who was set to leave the command in September after two years in office, was fired after the collision that was the second fatal accident within the last two months.
He will be replaced by Rear Adm. Phil Sawyer, according to the Navy in the Japanese city of Yokosuka, where the headquarters of the US 7th fleet is located.
The US Navy warship suffered significant damage to its hull when it collided with Alnic MC, a 30,000-ton oil tanker, on Monday.
The Malaysian Navy is working to confirm and identify the bodies they recovered.
This week's collision was the second fatal collision of a US ship in Asia.
Seven sailors died in June when another destroyer, the USS Fitzgerald, collided with a large Philippine container ship ACX Crystal off the coast of Japan.
The US Navy has ordered an operational pause in its operations around the world and a comprehensive review of the recent accidents.