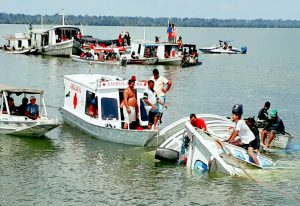 Sao Paulo, Aug 23 (EFE).- At least 10 people died and around 30 others are still missing after a boat sank in a river in Para, a state in Brazil's Amazon region, officials said Wednesday.
About 20 people managed to make it ashore after the boat sank Tuesday night in the Xingu River, that northern state's Public Safety and Social Defense Secretariat told EFE.
Two children and two women were among the victims, Marcel Torres – an adviser to Porto de Mozo, a municipality near the site of the accident – told EFE.
A storm caused the boat carrying around 70 people to overturn, some of the survivors said.
Bruno Costa, 29, described the desperate scene to local media, saying that a tarpaulin that had been set up to provide shelter from the rain prevented some people from escaping the sinking ship.
Rescue crews, including Brazilian navy sailors, were combing the area in search of possible survivors.
The Comandante Ribeiro departed Monday night from Santarem, a city in the western part of Para.
The riverboat was supposed to stop in Monte Alegre and Prainha before reaching its final destination, Vitoria do Xingu, but it sank in a remote area between the cities of Porto de Moz and Senador Jose Porfirio.