By Lina Broydo

San Jose Sharks 2017 Fan Fes
September 24 at 1 p.m. Legends Game at 5 p.m.
The next best thing to being a SJ Sharks hockey player, is to have a lot of fun at the  2017 Sharks Fan Fest at the grand SAP Center in the heart of Silicon Valley. The Fan Fest will feature players and coaches from the San Jose Sharks and San Jose Barracuda, along with many Sharks alumni, team broadcasters and personalities participating in a variety of activities, including autograph sessions, photo booths, live music and moderated Q & A sessions on the main stage. The highlight of the event will be the first-ever Sharks "Legends" game, featuring some of the most beloved Sharks alumni, team coaches and personalities in a 60-minute scrimmage.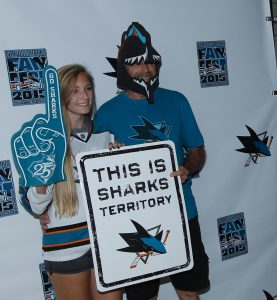 Scheduled participants in the "Legends" game include Sharks alumni Jamie Baker, Dan Boyle, David Maley, Bryan Marchment, Kyle McLaren, Douglas Murray and my favorite goalie Evgeni Nabokov, Owen Nolan, Tom Pederson, Mike Ricci, Mark Smith, and Rob Zettler, along with the Sharks and Barracuda coaching staffs, NBC TV California's Sharks pre- and post-game host Brodie Brazil, and more to be announced. If you are a hockey fanatic – this event is for you and your family.  See you at SAP! The 2017 Fan Fest is benefiting the Sharks Foundation.
Tickets and Information 
Prices start at $10 and include general admission seating to the Sharks "Legends" Game at 5 p.m.
Complimentary parking for all attendees will be available in SAP Center's A, B & C parking lots.
SAP Center
525 W. Santa Clara Street in San Jose
Photo courtesy of SJ Sharks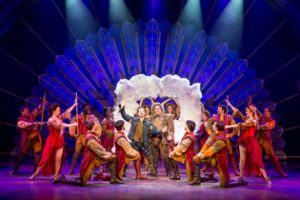 "Something Rotten" Hits San Francisco 
August 15 through September 10, 2017
"Something Rotten" is spectacular. You will be roaring with delight  as this explosive musical hits the Orpheum Theatre in San Francisco. "A deliriously entertaining new musical comedy that brings down the house!" – New York Post.
"Fresh and irreverent " – Associated Press. I was lucky to be invited to the opening night on August 15 and the audience could have been easily included among the incredibly talented cast. Loved, loved, loved! the show and highly recommend for the Bay Area theater lovers to enjoy this 3-hours cheerful and delightful play. We all need a bit of laughter in this stressful with crazy news world.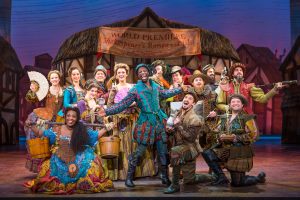 Actually we deserve a break! Nominated for 10 Tony Awards®, including Best Musical, "Something Rotten" comes to San Francisco with three principal cast members direct from Broadway: Rob McClure as Nick Bottom, Adam Pascal as Shakespeare and Josh Grisetti as Nigel Bottom. Enrich your life with a hilariously entertaining night with "Something Rotten"
Ticket Information:
Tickets range from $45-$214.
1-8880746-1799
SHN Orpheum Theater
1192 Market Street in San Francisco
Photo courtesy of SHN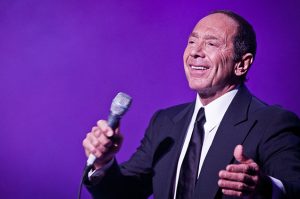 Paul Anka Live in San Jose!
August 27, at 8 p.m.
Legendary singer-songwriter Paul Anka is celebrating 60 years of music with this unforgettable concert, featuring beloved songs "My Way," "Diana," "She's a Lady" and my all time favorite "Put Your Head on my Shoulder, Baby" – and many more of his greatest hits! Spend a romantic evening with this amazing entertainer whose songs and lyrics have paved my way of early dating times.
Tickets and Information
Prices range from $55 to $235
1-408-792-4111
San Jose City National Civic
135 West San Carlos Street in San Jose
Photo courtesy of SJ City National Civic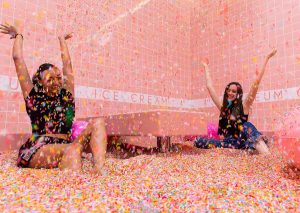 Museum of Ice Cream in San Francisco
Grand Opening in September 2017. Date to be determined shortly.
No need to scream for ice cream as we all know how much we love ice cream. Vanilla with macadamia nuts – is my choice! Sweet success is in the making as the widely successful and delicious pop-up shows in New York and Los Angeles Museum of Ice Cream are heading to San Francisco's Union Square.
Adding a number of new collection of "immersive installations, smells and flavors" the museum will showcase a room with giant ice cream Popsicles and a "sprinkle pool" you wish you could swim in. This will definitely make your childhood dreams and imagination come true.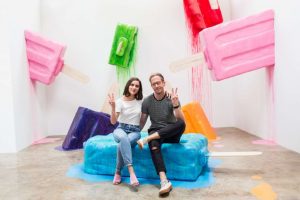 Tickets and Information
Tickets, $38, include entrance to the exhibit and half a dozen tastings.
Children 3 and under – free admission
Tickets have to be purchased in advance at www.museumoficecream.com
No tickets will be sold at the venue.
Museum of Ice Cream
1 Grant Avenue in San Francisco
Photo courtesy of the Museum of Ice Cream