Washington, Aug 23 (EFE).- Former Democratic presidential candidate Hillary Clinton called her Republican rival and now US president, Donald Trump, a "creep" in a new memoir and said her "skin crawled" when her opponent walked behind her during one of the 2016 presidential debates.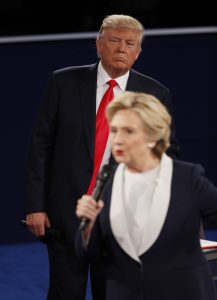 "It was incredibly upsetting. He was, literally, breathing down my neck. My skin crawled," the 69-year-old Clinton said in audio clips of her reading from the upcoming "What Happened" that were broadcast by MSNBC's "Morning Joe."
"It was one of those moments where you wish you could hit pause and ask everyone watching 'well, what would you do?'" Clinton said.
The former secretary of state said she considered telling Trump, "back up, you creep, get away from me."
"It certainly would have been better TV," Clinton said. "Maybe I have over-learned the lesson of staying calm, biting my tongue, digging my fingernails into a clenched fist, smiling all the while, determined to present a composed face to the world."
Clinton was referring to one of the most talked about moments during the second presidential debate in St. Louis, Missouri, in October 2016, when Trump walked around and approached her from behind while she was speaking.
Two days earlier, a 2005 video had emerged in which Trump was heard bragging about how he used his wealth and power to sexually harass several women.
Clinton's new book, which she has described as an effort to understand how her second attempt to become president failed, will be released on Sept. 12.
Although the polls showed Clinton ahead during most of the campaign, Trump defeated her on Nov. 8 in one of the most polarized and acrimonious elections in US history.