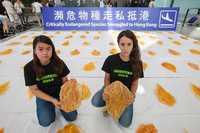 Ensenada, Mexico, Aug 24 (EFE).- Mexico, China and the United States agreed at the start of a two-day trilateral summit in the northwestern Mexican city of Ensenada on the need to develop a common agenda in the fight against the illegal trafficking and demand for the critically endangered totoaba fish.
The totoaba, which grows to as big as two meters (6.5 feet) long and 150 kilos (330 pounds) in weight, has been targeted by smugglers for decades because its swim bladder, which can fetch as much as $60,000 per kilo, is highly coveted in China and other Asian countries for its supposed aphrodisiac and rejuvenating properties.
The three countries agreed Wednesday to make further strides in investigating and prosecuting cases of totoaba poaching and smuggling, Mexico's federal environmental protection agency (Profepa) said in a statement.
It noted that gillnets used to illegally catch the totoaba entrap the vaquita, the world's smallest cetacean, which is also listed by the International Union for Conservation of Nature as critically endangered.
Both of those aquatic animals are endemic to the Gulf of California in northwestern Mexico.
On June 30, Mexico enacted a permanent ban on gillnet fishing in the northern Gulf of California.