By Marti Quintana

Mexico City, Aug 26 (EFE).- From the time they are born, human beings must face numerous losses that they learn to accept through mourning, a process of emotional adaptation that, in the end, is the way of coming to terms with one's own death or that of a loved one.

There are "many kinds of death and each one leads to mourning. Mourning is the time you take to get used to it, to adapt to the new reality," the president of the Mexican Institute of Thanatology, Teresita Tinajero, told EFE.
Humans learn to understand mourning with small losses, which can either be natural or unnatural.

For example, a newborn baby's first loss is the comfort of the maternal uterus, when for the first time he or she has to learn to ask for food.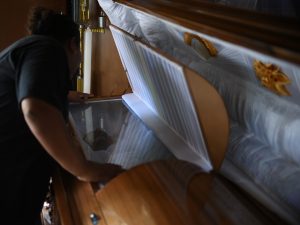 Years later, when the youngster goes to school, it's mom who suffers the feeling of loss when she sees her child going off on his own.

Though it doen't always mean sorrow or suffering, the loss of a job, the end of an engagement, or being the victim of a holdup also mean going through a time of sorrow, according to the specialist of this civil association founded in 1994.

Thanatology is a science that interprets the process of death, its rituals and their significance, while approaching it from the angles of biology, psychology, society and bioethics.

"These days people pay much more attention to death," Tinajero said, so that all that causes sorrow, suffering or concern is dealt with in different stages.

The expert gave as an example a patient who was diagnosed with brain cancer and was given a life expectancy of between three and five years.

First, the person goes through a phase of denial, unable to immediately grasp what the doctor is saying, then there's so much anger that the patient gets mad at himself.

There is also a stage of negotiation or bargaining, during which the patient "negotiates feelings of guilt." The sick person commends himself or herself to Our Lady, or like an employee looks for ways to avoid being fired.

One can also decline into a stage of sadness or depression when facing death that leads to deep contemplation about the purpose of all you have done.

In the end the process of mourning – whether because of death or not – leads to the desired acceptation, when one deals with the reality and seeks, one way or another, to find a satisfactory explanation.