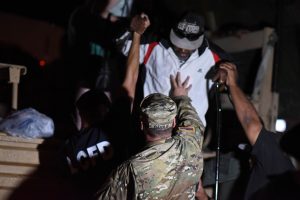 Miami, Aug 30 (EFE).- The eye of Tropical Storm Harvey made a second landfall Wednesday morning and is currently located over the southwestern part of the state of Louisiana, according to the United States' National Hurricane Center, which warned of continued life-threatening flooding in Houston.
In its latest complete public advisory at 1200 GMT, the NHC said Harvey was packing maximum sustained winds of 75 km/h (45 mph) and that its center was located 40 kilometers (25 miles) west-northwest of Lake Charles, Louisiana, and 50 kilometers northeast of Port Arthur, Texas.
Harvey, which first made landfall in southern Texas last Friday night as a major Category 4 hurricane, came ashore again Wednesday just west of Cameron, Louisiana, as a tropical storm.
It is moving toward the north at a speed of 14 km/h and is expected to weaken gradually and be downgraded to a tropical depression by Wednesday night.
It is expected to move in a northeasterly direction at a faster forward speed starting late Wednesday morning, according to the NHC, which said the forecast track would take its center across the Lower Mississippi Valley and Tennessee Valley through Thursday.
Harvey is forecast to produce an additional seven to 15 centimeters (three to six inches) of rain through Friday from southwestern Louisiana and the Louisiana-Texas border to western Kentucky, with isolated rain accumulations of up to 25 centimeters.
The NHC also warned of continued flooding in Houston, where large swaths of the city are underwater and thousands of people have been forced to flee their homes.
"While the threat of heavy rains has ended in the Houston/Galveston area, catastrophic and life-threatening flooding will continue in and around Houston eastward into southwest Louisiana for the rest of the week," the NHC said.
Texas authorities on Tuesday raised the provisional death toll attributed to Harvey to at least 16, although they said that number would likely climb further as rescue efforts proceed amid continued rainfall.