Miami, Aug 29 (EFE).- Tropical Storm Harvey, whose eye is located off the central coast of Texas , continued Tuesday its powerful downpours, and the flooding is expected to get worse in the southeastern part of the state and in southwest Louisiana, the US National Hurricane Center (NHC) reported.
In its advisory at 1200 GMT Tuesday, the NHC again told people "do not attempt to travel in the affected area if you are in a safe place. Do not drive in flooded roadways."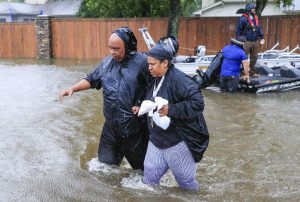 Harvey currently has maximum sustained winds of 75 kph (45 mph) and is located at 145 kilometers (90 miles) east-southeast of Port O'Connor and some 235 kilometers from Port Arthur, both in Texas.
It is moving with a slow northeastward motion at 6 kph and, according to its projected course, will turn Wednesday to the north-northeast, causing the eye to move inland over the northeastern Gulf coast.
The storm continues to leave heavy rains that threaten to increase the provisional death toll of eight fatalities.
Harvey, which originally hit the coast with maximum sustaned winds of 215 kph, making it a Category 4 hurricane out of a maximum 5 on the Saffir Simpson scale, continues to produce flooding that is "catastrophic" for human lives in southeast Texas and areas of southwest Louisiana, the NHC warned.
By Thursday, Harvey is expected to bring new cloudbursts that could flood southwestern Louisiana and north Texas with 25 to 50 centimeters (10 to 20 inches) of rain.
In the latter region, which includes the metropolitan areas of Galveston and Houston, rains could cause up to 1.2 meters (50 inches) of water to accumulate.
The other big danger is the rising sea level and the tidal waves caused by the powerful winds of the storm.