By Lina Broydo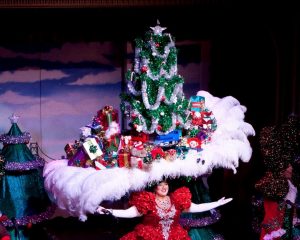 Auditions for Beach Blanket Babylon Show
September 13, 1 p.m. to 5 p.m.
Don't miss the long awaited auditions for Steve Silver's Beach Blanket Babylon, the world's longest running musical revue, as its producer Jo Schumann Silver is seeking male and female singers who are: versatile in stage choreography and movement, strong tenors and baritones with falsetto, and strong belters. Comic timing, acting skills and the ability to impersonate pop culture icons are a plus.
The effervescent review of showstopper characters in outlandish costumes and three-story high magically-constructed fantastic hats will bring all the famous and the infamous to the stage of Club Fugazi. Here is your opportunity to join Snow White as she takes a fast-paced journey around the world in search of her Prince Charming.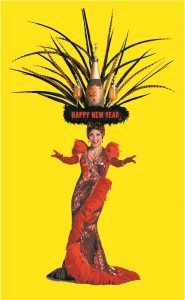 Along the way she encounters a star-studded, ever-changing line-up of hilarious pop culture characters including Donald and Melania Trump, Vladimir Putin, Beyoncé, Lady Gaga, Hamilton, Taylor Swift, Barak and Michelle Obama, Hillary and Bill Clinton, Kim Kardashian and Kanye West, Adele, Sia, Prince, Barbra Streisand, Oprah, and the San Francisco Giants.
You may be the lucky winner to join the cast whose 16,000 performances have been seen by over six million people from around the world. It could be your turn now. Good luck and save a seat for me.
Information: 
To schedule an appointment, please email a resume and headshot to DarrenDoutt@beachblanketbabylon.com.
Those auditioning must be at least eighteen years old.
Club Fugazi
678 Beach Blanket Babylon Boulevard in San Francisco's North Beach
Photo courtesy of BBB and Rick Markovich
The Intimate Beauty of Love in "Constellations" 
Through September 17, 2017
When a boy, a beekeeper, meets a girl, a quantum cosmologist – the possibilities are unpredictable and priceless as they are showcased in "Constellations" –  the magnificent production by TheatreWorks Silicon Valley.
The beauty of their love is unique and challenging, but as we always want to believe and hope for – is romantic.
Nick Payne's play which originally premiered in London in 2012 continued its award winning journey to Broadway, where it starred famous screen and stage actor Jake Gyllenhaal and stage actress Ruth Wilson, again garnering numerous awards.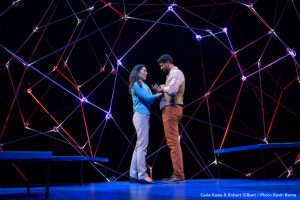 Projecting warmth, humanity and beauty it pictures a fascinatingly incredible dialogue as a tribute to the English language before the Twitter took it over.
This romantic drama is intelligently interpreted and well acted by the extremely talented and charming Carie Kawa as Marianne and Robert Gilbert as Roland in the TheatreWorks production on stage at the Mountain View Center for the Performing Arts.  The sets are intriguingly creative and mysterious. Loved it! Definitely not to be missed.
Tickets and Information
Prices range fro $40 to $100
650-463-1960
Mountain View Center for the Performing Arts
500 Castro Street in Mountain View
Photo courtesy of Kevin Berne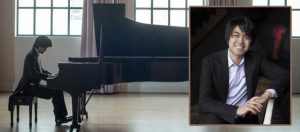 Virtuoso Pianist Sean Chen Performs in San Jose
September 9, at 7:30 p.m.; 
Hailed as a rising star with an exceptional ability to connect with an audience combined with a brilliant interpretation of the classics by Chopin, Ravel and Nikolai Medtner, the 28-year-old American pianist Sean Chen who is a Bronze Medal winner at the 2013 Van Cliburn Competition and winner of the 2013 American Pianists Awards, will continue to awe the crowds of music lovers with his alluring and colorfully shaded renditions at his upcoming concert in San Jose.
A multifaceted musician, Mr. Chen also transcribes, composes, and improvises. His transcription of Ravel's La Valse has been received with glowing acclaim, and his encore improvisations are lauded as "genuinely brilliant"  Don't miss the pre-concert lecture at 6 :45 p.m. and enjoy the-post concert meet & greet with Sean Chen.
Tickets and Information
Prices range from $40 to $60
408-990-0872
Trianon Theater
72 North 5th Street in San Jose
Photo courtesy of Steinway Society

Sonoma Valley Crush
September 8, 9 and 10, 11 a.m. to 4 p.m.
Join participating wineries in Sonoma Valley for an unforgettable harvest experience! Get involved, hands-on. Meet the Winemakers, learn about harvest and taste amazing wines. Wineries will offer Grape Sampling in the vineyards, offering Crush Pad tours, sampling Fresh Pressed Juice and grapes picked fresh off the vine. Join the fun for one day or all three!
Passes give you access to harvest activities and wine tastings at 10 wineries in Kenwood and Glen Ellen, and a souvenir wine glass. Participating Wineries: La Rochelle Wines, Loxton Cellars, Manzanita Creek Winery, Mayo Family Winery, Muscardini Cellar, Orpheus Wines, Paradise Ridge Winery, Spann Vineyards, St. Anne's Crossing Winery, Sunce Winery, Ty Caton Vineyards, Wellington Cellars
Tickets and Information
One Day Pass is $35 per person in advance and $45 at the door.
Two+ Day Pass is $50 per person in advance or $55 at the door.
For details contact:
Josie Gay at 707-431-1137