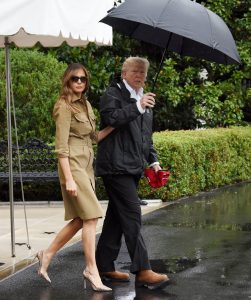 Washington, Sep 2 (EFE).- US President Donald Trump landed Saturday in Texas on his second trip to the Lone Star State in less than a week in order to visit the areas hit by Hurricane Harvey, where he met with people affected by the devastating storm and praised the efficient way federal and local authorities have respongded to the disaster.
Accompanied by first lady Melania Trump, advisers and some members of his Cabinet, the president arrived in Houston, the city hardest hit by Harvey, just before 11:30 am.
"I think people appreciate what's been done," Trump said during a visit to a shelter. "It's been done very efficiently, very well, and that's what we want. We've very happy with the way things are going. A lot of love. There's a lot of love."
Houston remains largely underwater a week after Harvey struck, and whose flooding, the most massive in United States history, has left some 30,000 people evacuated and almost 50 dead, in addition to the immense devastation on the Texas coast.
Trump met Saturday in Houston with people whose homes were devastated by Harvey, volunteer workers and local authorities including Texas Gov. Greg Abbott, and helped distribute food supplies to many left homeless by the storm.
Afterwards he was to travel to the neighboring state of Louisiana, where the storm, by then debilitated, caused heavy rains, floods and destruction.
"We will see you soon. America is with you!" Trump tweeted to those affected by Harvey before leaving Washington.
The president also dedicated his weekly message to the victims and those affected by the hurricane, to whom he reiterated the government's support during the long recovery process: "TEXAS: We are with you today, we are with you tomorrow, and we will be with you EVERY SINGLE DAY AFTER, to restore, recover, and REBUILD!"
On his first visit to Texas last Tuesday, Trump was criticized for talking mostly about the size of the crowd that gathered to see and greet him instead of speaking with the hurricane victims and expressing the empathy and compassion that usually characterizes presidential visits to devastated areas.
The Trump government has asked Congress to allocate $7.85 billion in relief funding for those affected by Harvey.
Congress goes back to work next Tuesday after its August recess, and the leaders of both houses have committed to immediately studying Trump's budget proposal for those affected by the hurricane.