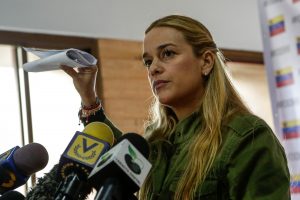 Caracas, Sep 2 (EFE).- Lilian Tintori, activist and wife of Venezuelan opposition leader Leopoldo Lopez who is currently under house arrest, said Saturday that the European tour she was to begin this Monday to meet with the chief executives of France, spain, Germany, the United Kingdom and Italy will be carried out by other opposition representatives after authorities barred her from leaving the country.
"This tour will be carried out in every one of the countries, and in every one of the meetings we will have someone who represents us, who will say the same as I was going to say only better," Tintori told a press conference at the Caracas headquarters of her husband's party, Voluntad Popular.
"They knew about this tour and did everything to stop it, and now believe they've stopped the tour because I'm not going, because they didn't let me leave the country, because they seized my passport," the opposition activist said after government authorities stopped her from getting on a plane at the airport.
Tintori, 39 and several months pregnant, showed reporters the document containing her travel ban and indicates that the decision came from the Attorney General's Office.
Tintori's attorney Ana Leonor Acosta complained that the AG's office is not authorized to issue such orders, because they must be handed down by a court of law.
The document says a travel restriction was placed on Tintori's passport by the Attorney General's Office, which is investigating the activist after authorities found 200 million bolivares (more than $60,000 at the official exchange rate, although only around $10,000 at the black market rate) in cash in her car.
In a video posted to Twitter Friday, Tintori said she had been issued a summons to appear before a local court about the matter.
She slammed the probe as a new "persecution" against her family and said it was no crime to have cash in one's possession and that she was planning to use the money to pay emergency family-related expenses.
Tintori and the president of the opposition-controlled National Assembly, Julio Borges, were to meet next week with French President Emmanuel Macron, Spanish Prime Minister Mariano Rajoy, German Chancellor Angela Merkel, UK Prime Minister Theresa May and Italian Prime Minister Paolo Gentiloni.