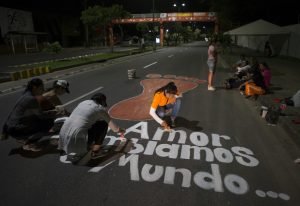 Villavicencio, Colombia, Sep 8 (EFE).- Pope Francis on Friday celebrated Mass before some 400,000 people in Villavicencio, one of the Colombian cities hardest hit by the armed conflict, and offered guidance on how the country can achieve true reconciliation.
"Reconciliation is achieved and consolidated with contributions by all. It lays the groundwork for the future and allows hope to flourish. All efforts at peace without a sincere commitment to reconciliation will be a failure," the pontiff said in his homily.
In one of the most emotional moments of the Mass, the pope embraced and kissed several indigenous children; he also received a necklace from them, as well as a traditional Colombian hat as a gift.
In his homily, Francis provided his reconciliation formula for a country deeply polarized after the signing a peace agreement between President Juan Manuel Santos' administration and the Revolutionary Armed Forces of Colombia (FARC) guerrilla group, which this year has handed over its weapons and transformed itself into a political party.
"Reconciliation means opening the door to each and every person who has experienced the dramatic reality of the conflict," he added.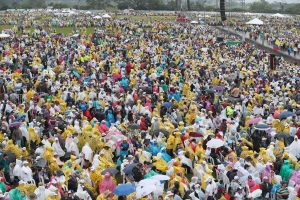 In a region that was home to the largest number of victims of the decades-old conflict and now will have the largest concentration of ex-guerrillas, the pope urged people to reject vengeance.
"When victims conquer the understandable temptation toward vengeance, they become the most credible leaders of the peace construction process," he said.
"One good person is sufficient to instill hope," Francis said on two separate occasions during his homily.
The pope, who did not mention the peace agreement with the FARC, although he strongly supported the process, said that forgiveness did not mean "legitimizing personal or structural injustices."
During the Mass, Francis beatified two religious martyrs: Pedro Maria Ramirez Ramos, killed at the start of Colombia's civil war in 1948, and bishop Jesus Emilio Jaramillo Monsalve, slain by leftist ELN rebels in 1989.
Afterward, the pope took part in what was the highlight of his stay in Villavicencio – the Great Prayer Meeting for National Reconciliation in Las Malocas Park.
"The yearning and determination to overcome (past) struggles is a search that leads to clarity and the consolidation of a new nation," Villavicencio Archbishop Oscar Urbina Ortega said a the start of the prayer service.
Francis also was to deliver an address at that gathering, which was attended by some 6,000 people, including indigenous minorities, victims of violence, paramilitaries and former FARC rebels.
The pope will conclude his stay in Villavicencio with a stop Friday evening at the Cross of Reconciliation in Founders Park, home to a plaque indicating the number of victims of kidnappings, murders and land mines in that region during the armed conflict.
Francis also will visit the cities of Medellin and Cartagena during his stay in Colombia, which concludes on Monday.