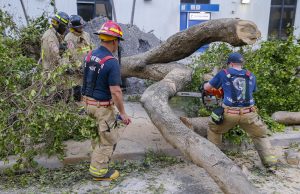 Washington DC, Sep 11 (EFE).- Irma, the most powerful hurricane ever recorded in the Atlantic Ocean, was downgraded Monday to a tropical depression as it advanced through the southeastern United States, according to the US National Hurricane Center (NHC).
At 11 pm (3:00 GMT on Tuesday), Irma packed maximum sustained winds of up to 55 kilometers (35 miles) per hour and was located 10 km south of Columbus, Georgia and 150 km south-southwest of Atlanta, Georgia.
The cyclone was moving at a speed of 24 km per hour towards the northwest, and it is expected to move into Alabama soon and then into western Tennessee by late Monday.
Irma left around 30 dead on its path through the Caribbean and recorded winds of up to 295 kilometers per hour, which converted it into a powerful category 5 hurricane.
In the US, where it made landfall on Sunday, it has caused heavy flooding, left about 10 dead and about 6.5 million households without electricity.
Florida cities cope with storm-surge flooding after passage of Irma
Cities across Florida on Monday began the task of recovering from Hurricane Irma, which claimed the lives of at least six people in that state, left more than 6.7 million residential and business customers without electricity and caused widespread storm-surge flooding.
Currently a tropical storm that is moving north over southwestern Georgia, Irma left a panorama of flooded streets and roads blocked by fallen trees in many of the state's urban centers, some of which are under nighttime curfews to facilitate the work of cleaning crews and power line technicians.
Six fatalities have been blamed on Irma in Florida, including the deaths of Hardee County Sheriff's Office Deputy Julie Bridges and corrections officer Joseph Ossman, who perished in a head-on collision Sunday in a hurricane evacuation zone in southeast Tampa.
Two other people died in the Florida Keys, which was hit by storm surges of up to three meters (10 feet), while the other two people killed were residents of Miami-Dade and Orange counties.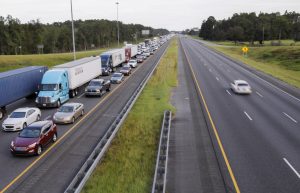 The hurricane earlier caused 37 deaths in the Caribbean, where it was a Category 5 hurricane at peak strength and caused catastrophic damage to some small islands in the Lesser Antilles and also battered Cuba, which has reported 10 fatalities.
More than 6.7 million customers of Florida's main electric utilities are without power due to Irma, according to the Florida Division of Emergency Management.
The Florida Keys, a coral-cay archipelago between mainland Florida and Cuba, was undoubtedly one of the hardest hit areas, as state Gov. Rick Scott observed Monday while flying over those islands on Monday.
"My heart goes out to the people in the Keys," Scott said at a press conference in Miami-Dade County, adding that that archipelago is facing a long road to recovery.
Irma charted a course up Florida's west coast after making landfall in the Keys, but its devastating effects were felt on both sides of the peninsula.
Several coastal towns in southeastern Florida awoke Monday to a scene of fallen branches and trees, unmoored boats and streets filled with water, while authorities in the southeastern Floridian counties of Broward (home to Ft. Lauderdale) and Miami-Dade said public schools would remain closed until further notice.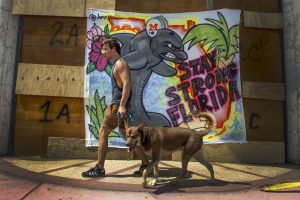 Miami Beach authorities are not allowing tourists and residents back into that city until Tuesday afternoon, delaying the return home of people who had been forced to take refuge at shelters.
Commercial service will partly resume at Miami International Airport starting Tuesday, while the airports serving Ft. Lauderdale and Tampa will remain closed throughout Monday. The West Palm Beach airport, however, began operating again on Monday at midday.
The southwestern coastal city of Naples, located near the spot where Irma made landfall on Sunday afternoon as a Category 3 hurricane, was battered by wind gusts of up 230 km/h (142 mph) and suffered water accumulations of up to 30 centimeters (12 inches), although that was far lower than the dire pre-landfall predictions of storm surge flooding of up to 5.5 meters (18 feet).
The National Weather Service, however, reported that the downtown area of the northeastern Floridian city of Jacksonville suffered record storm-surge flooding, even more severe that the flooding caused by Hurricane Dora in 1964, while Jacksonville Beach Mayor Charlie Latham said at least 90 percent of the city's population was without power.
In Tampa, located near Florida's Gulf coast, Mayor Bob Buckhorn said Irma had damaged homes and flooding but that the city had dodged a potentially severe hit and emerged from the dangerous situation quite well, extending its 90-year stretch without experiencing the catastrophic effects of a hurricane.
Irma, which has weakened to a tropical storm and is currently centered over southwestern Georgia, is forecast to dump torrential rain on a large swath of the United States' southeast, particularly South Carolina and north-central Georgia and Alabama into the southern Appalachians.
A large area of northwestern Florida and an area from around the tip of northeastern Florida up to southern South Carolina remains under a storm-surge warning (with water potentially reaching up to 1.8 meters, or six feet, above ground) from Irma, which is projected to become a tropical depression on Tuesday.