Caracas, Sep 11 (EFE).- Democratic Action (AD), Venezuela's oldest political party, emerged as the clear winner in primary elections organized by the main opposition coalition ahead of an October vote for state governors in the South American country, according to preliminary results released Monday morning.
Francisco Castro, president of the primaries commission of the Democratic Unity Roundtable (MUD), held a press conference to announce the results of 13 of Sunday's 19 contests, saying the outcome of the other six would be revealed later in the day.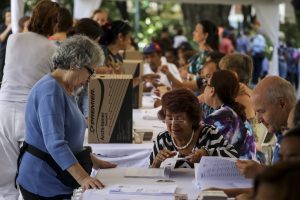 At least eight candidates from the AD, led by former National Assembly (Congress) President Henry Ramos Allup, topped their rivals in the eastern states of Delta Amacuro and Sucre, the southwestern state of Apure, the northwestern state of Falcon, the central state of Guarico, and the western states of Merida, Tachira and Trujillo.
AD also boasts two other candidates – for the governorships of the northeastern states of Anzoategui and Nueva Esparta – that had been chosen by consensus of all of the coalition's parties. In total, it emerged victorious in 10 out of the 23 primary races.
Primero Justicia (Justice First), led by current National Assembly President Julio Borges, scored the second-most primary victories, winning three races. One of those triumphs came in the central coastal state of Miranda, which has been ruled for the past eight years by opposition leader Henrique Capriles.
Preliminary results didn't indicate any win for the Voluntad Popular (Popular Will) party headed by opposition leader Leopoldo Lopez, who was sentenced to a lengthy prison term for inciting violent 2014 opposition protests and is currently under house arrest, but his party had already secured two candidacies chosen by prior consensus of the MUD parties.
High expectation surrounds the outcome of the vote in the state of Zulia, on the border with Colombia, the second most populated in the Caribbean country after Caracas and an oil rich region.
Two of the MUD's parties -Vente Venezuela and Alianza Bravo Pueblo – declined to participate in the primaries, saying they do not trust the electoral process in leftist-led Venezuela.
The gubernatorial elections were to have been held in December 2016, but authorities have delayed the balloting on two occasions.
They will be held amid a severe economic crisis and deep political divisions.
The opposition accuses President Nicolas Maduro of seeking to consolidate a dictatorship through the recent creation of a National Constituent Assembly, which has taken over the duties of the National Assembly.
Maduro in turn says opposition leaders are traitors who are trying to oust him via a coup with support from the United States, which has levied harsh economic sanctions on the Caribbean nation.