Marathon, Florida, Sep 12 (EFE).- The tourist paradise of the Florida Keys is now a scene of desolation, with hundreds of military, emergency and public works vehicles driving around attempting to restore life to these islets devastated by Hurricane Irma.
The drive south along the narrow US1 highway, which connects this string of islets with continental Florida, reveals an archipelago punished mercilessly last Sunday by the catastrophic Category 4 hurricane.
Irma's 215-kph (134-mph) winds wiped out a vast number of homes and trailers, as well as gas stations, small planes, vehicles, boats, trees and whatever else was in its path as it roared into the United States after leaving death and destruction in the Caribbean.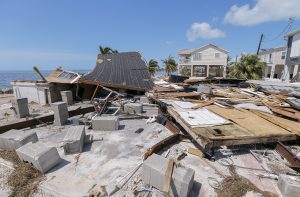 Piled up on US1, which was destroyed along some stretches as the paving broke loose, was an enormous amount of debris including trees, branches, all kinds of equipment, furniture, washing machines, refrigerators, bathtubs and even boats and mobile homes.
The panorama of devastation is even more dramatic in the narrow neighborhood blocks of this long archipelago, where the homes await their owners with the bad news of material loss and humanitarian crisis in Monroe County, where the keys are located.
A case in point is the three-story building on Islamorada that sank into the sand with its 12 apartments as if swallowed by a sinkhole.
The destruction is total in 25 percent of the buildings, while another 65 percent were damaged by the force of Irma, which left at least one person dead in the Florida Keys.
Pedro Leon, one of the firefighters searching neighborhoods to rescue people who refused to evacuate, told EFE that some 85 percent of the 85,000 permanent residents of the Keys left before Irma blew in.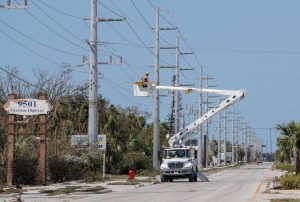 Starting at 7:00 am, Monroe County authorities allowed access to residents and business owners, but only to areas already cleared of debris – as far south as kilometer 73 (mile 45) on Islamorada.
But more than a return of evacuees, it looked like a military operation after a war, followed by at least 50 public service vehicles.
The Cuban Viviana Barrera, one of the few people who had hunkered down in the Keys, told EFE that she, her husband Reinaldo Martinez and their two teenage children decided to stay on Marathon to rescue their house from the rising water.
The Cuban family stayed safe in a four-story building on the same islet, from where they saw "doors, refrigerators and many boats" blown away, as well as inundations of up to "6 feet" (3 meters) high that wrecked their car.
Due to the damaged bridges and most residents' lack of water, electricity, telephones and fuel, authorities have recommended continued evacuation until sufficient recovery is achieved. By By Ivonne Malaver.