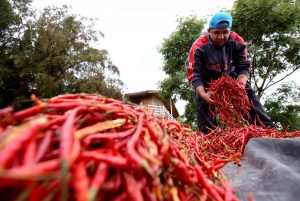 Yahualica, Mexico, Sep 13 (EFE).- The chile de arbol pepper is more than an icon of Mexican culture. It's an element of Mexican cuisine that provides the livelihood for hundreds of families in the western state of Jalisco who cultivate it and incorporate it into salsas, marinades and other products that need picante flavoring.
This species of dry chili pepper is endemic to the Los Altos region of Jalisco, especially the town of Yahualica, which has given its name to the product.
Residents of the town grow the peppers and use them to prepare sauces of various kinds used widely in Mexican cooking for more than a century, a tradition that is inculcated in the townsfolk from childhood, Luis Antonio Plasencia, the owner of one of the "chili ranches" in the nearby town of Manalisco, told EFE.
"My whole family participates. From the youngest to the oldest in the family. Of course, nobody forces the kids to work, but they certainly absorb this activity," he said during a break in harvesting the most heavily consumed chili pepper in Mexico.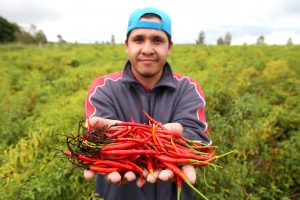 All year long, the local families grow, gather and prepare the peppers on the farm of 250 hectares (625 acres), with the harvest season coming in August and September.
At that time of year, it's common to see children and women laying out tons of the harvested chili peppers on large plastic sheets to dry in the sun, so that they can be sorted and stored more easily.
Write Agustin Yañez described this part of Jalisco as "the thin lands," since it is a semi-desert area where the heat bakes and the rain doesn't come often enough.
The aridity of the soil, along with the altitude of the hills on which the peppers are grown, gives them their characteristic scarlet color and special taste, Maria del Refugio Gonzalez, the town's culture and tourism administrator, told EFE.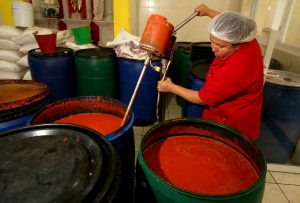 "The soil is rich in many minerals and also the altitude, the climate, all this makes the Yahualica chili pepper have a very unique taste, quite apart from its exquisite aroma," she said.
Although brilliant red in color, that does not mean that the peppers are intensely hot.
"It doesn't compare with the ferocity of the habanero, because the chili peppers of this region are less picante," said Eduardo Perez Mejia, the owner of the traditional Porfis de Yahualica salsas – one of at least 16 salsa brands produced in the town – who has been producing the peppers for some 50 years.
The traditional recipe used by Mexican grandmothers is based on the chile de arbol, water and other ingredients and has, over the years, become one of the most popular in Mexican cuisine.
The Yahualica town council is seeking designation of origin to protect the name, the quality and the production process for the chili peppers coming from the region.