By Lina Broydo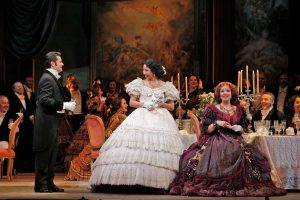 International Opera Stars Shine in La Traviata 
September 23 through October 17, 2017
This fall the San Francisco Opera presents one of my two all time favorite operas – Verdi's La Traviata (The Fallen Woman).
The company's Music Director Nicola Luisotti will lead an international cast featuring three artists making their debuts in leading roles:
Romanian soprano Aurelia Florian as Violetta Valéry, Brazilian tenor Atalla Ayan as Alfredo Germont and Polish baritone Artur Rucinski as Giorgio Germont.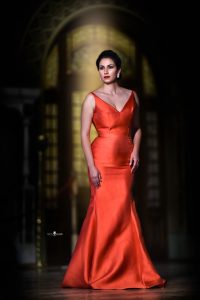 La Traviata premiered in Venice, Italy on March 6, 1853. The opera's first performance in San Francisco took place on October 4, 1924. The classic 1987 San Francisco Opera production, which evokes the opulence of mid-19th century Paris in lavish, detailed settings and costumes, will be revived by original director John Copley along with stage director Shawna Lucey.
Artistic Director of Theatre Flamenco of San Francisco Carola Zertuche  is contributing new choreography in her debut.
The San Francisco Opera's production of La Traviata encompasses all of the spectacular nuances of music, singing, acting and dancing  of what the world's grandest of opera houses have to offer.
We are very lucky to see it and listen to the best arias in the area right here in our beautiful City-by-the-Bay.
Try to find me in the audience and I will reveal to you my secret of what is my second most favorite opera is.
Tickets and Information
Prices range from $26 to $270
415-864-3330
War Memorial Opera House
301 Van Ness Avenue in San Francisco
Photos courtesy of SF Opera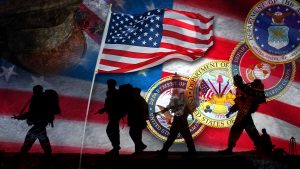 The Veterans Community Plaza Debuts in Los Altos
September 19 at 5:30 p.m.
The city of Los Altos and its citizens including the Student Veterans at the Veterans Resource Center at Foothill College in Los Altos, are joining other towns and cities across America by establishing a Veterans Community Plaza dedicated to the women and men who have served with bravery, heroism and distinction in the Armed Forces of the United States of America.
Thank you for your service! This is a public celebration and all are invited. Please join the members of the Los Altos Rotary Club, Los Altos Kiwanis Club, Los Altos America Legion Post 558, Foothill College, Los Altos Village Association, Los Altos Town Crier and Los Altos Chamber of Commerce in their salute, tribute and heartfelt gratitude to our Veterans. It is with great pride and honor the existing Community Plaza will be re-named The Veterans Community Plaza. 
Tickets and Information
Free admission
Intersection of Main and State Streets in downtown Los Altos
Light Refreshments Will be Served
Splendor in the Glass
September 26 – October 1, 10 a.m. to 7 p.m.
September 26 – 29, Exhibition dates (no pumpkin sales)
September 30 – October 1, Pumpkin Sales
Candlelight Cocktails reception on September 28, 5:30 p.m. to 8:30 p.m.
The Palo Alto Art Center, Bay Area Glass Institute (BAGI) and Palo Alto Art Center Foundation are at it again as they present the most colorful and awe-striking 22nd Annual Great Glass Pumpkin Patch. Come early before the masses of the fans and collectors of these spectacular glass pumpkins take over the entire exhibition area.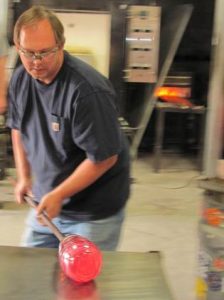 Watch live glassblowing and flame working demonstration by the famous and talented artists and craftsmen from around the globe as they create the magnificent treasures for you to take home just in time for the holidays. Children are welcome, but just to observe, admire and learn but NOT TOUCH!!
I am among the devoted glass pumpkin collectors and have a dozen of the most spectacular glass pumpkins all sparkling with gorgeous colors and flickering lights. Start your collection now.
Tickets and Information
Free admission
650-329-2366
greatglasspumpkinpatch.com
Palo Alto Art Center
1313 Newell Road in Palo Alto
Photo courtesy of Great Glass Pumpkin Patch
Bay Area Sports Hall of Fame Golf Classic
October 2, 2017 at 8:30 a.m.
The world renowned Olympic Club in South San Francisco, the home of the 2012 U.S. Open, will be the stunningly beautiful setting for the sport stars and you, the avid golf aficionados, to tee off at the 22nd Annual Bay Area Sports Hall of Fame (BASHOF) Golf Classic, the premier charity event in the Bay Area, benefiting the BASHOF Youth Fund, while helping kids play sports.
Matt Williams, the former SF Giant and the Bay Area sports Hall of Fame 2017 Inductee will serve as the Honorary Tournament Host. Golfers will enjoy a full day of golf, mingle with many celebrities as well as participate in the 19th hole celebration with live and silent auctions.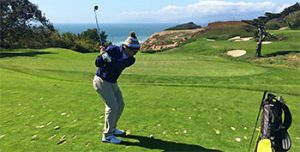 Past attendees have included: Brent Jones, Owen Nolan, Dave Casper, Jim Hines, Vida Blue, Johnny Mosey, Jim Plunkett, Gene Washington, Rick Barry, Anne Cribbs and many more, all past BASHOF inductees.
This will definitely be your unforgettable day on the links. Your foursome can enjoy playing either the Lake Course or the redesigned and newly renovated Ocean Course.
Information:
Reserve your foursome today by contacting: Anthony Savicke by phone at 650-576-6370  or email at asavicke@bashof.org.
Schedule For The Day:  
8:30am Golfer Registration
 -Continental Breakfast
 -Tee Prize Distribution
 -Putting Contest & Driving Range warm-up
10:00am First Tee Golf Clinic
 -Learn tips from one of the greatest!
11:00am Shotgun Start
 –Play your ball or use the "shamble"      format
 -Lunch and Beverages provided on course
 -Contests on all Par Threes
4:00pm 19th Hole Celebration 
 -Hosted Cocktail Party
 -Silent Auction
 -Mingle with Bay Area Sports Celebrities
 -Golfer Awards
5:30pm Dinner & Live Auction 
 -Buffet Dinner in the Dining Room
 -Live Auction
Photo courtesy of BASHOF