Miami, Sep 14 (EFE).- President Donald Trump on Thursday toured areas in Florida devastated by Hurricane Irma, while the state is trying to get back to normal in terms of restoring electric power, clearing away rubble and ruins.
The president arrived at the Fort Myers airport on Florida's southwest coast accompanied by first lady Melania Trump and Vice President Mike Pence, and he began his tour heading south through one of the areas battered by Irma.
Also accompanying the president were Florida Gov. Rick Scott, Energy Secretary Rick Perry and Florida lawmakers Marco Rubio and Mario Diaz-Balart.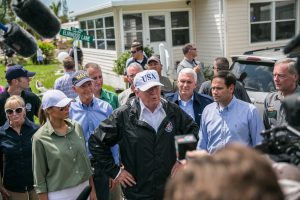 Trump said that Irma had been a real disaster for the state, adding that there is still much work to be done in terms of the post-hurricane recovery.
He emphasized the "incredible" work of the federal and state authorities in Florida, singling out Scott, Perry, Rubio, Florida Power & Light CEO Eric Silagy, Florida Attorney General Pam Bondi, Acting Homeland Security Secretary Elaine Duke and Federal Emergency Management Agency chief Brock Long.
Among those who perished in the storm were nine people living in a nursing home in Hollywood, Florida, which was left without electricity after Irma and at least eight other people in the Florida Keys, which was the hardest hit part of the state.
In 90-degree temperatures, Trump visited families who suffered property damage in Naples, south of Fort Myers, and brought them water and sandwiches with his wife.
The president also said that he was "100 percent" with the people affected by the storm and the emergency aid workers deployed in the zone.
After the president made his remarks, he invited Scott to speak, and the governor thanked the emergency workers and the federal authorities, going on to say that "We're working hard to get our power back on. Our utilities have restored over four million homes already."
Hurricane Irma made landfall in the Keys early Sunday morning, hitting the mainland several hours later, with winds of up to 215 kilometers (133 miles) per hour, destroying at least 25 percent of the homes in its path and severely damaging about 65 percent, according to FEMA.
Trump was on the ground in Florida for three hours examining firsthand some of the storm damage.
At midday on Thursday, at least 2.5 million homes, businesses and offices, half a million of them in Broward and Miami-Dade Counties, on the state's southeastern coast, were still without electricity, according to Florida authorities.
The president also thanked the US Coast Guard, the National Guard and other institutions for their efforts to protect and save lives, and he promised to help those who have lost their homes.