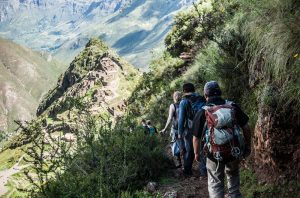 By Bob Schulman
There are only two places on a new tour of Peru where you'll see mobs of tourists: at its start (at the country's capital of Cusco) and a little over a week later at its end (at the iconic Incan ruins at Machu Picchu). In between, the tour follows a less-traveled route (vs. the popular "Inca Trail") featuring stops at little-known archaeological sites and mostly tourist-less weaving and craft villages.
Called "The Adventurer's Route to Machu Picchu," the tour offers multiple en route activities for its guests' different interests and age groups. For instance, after learning some weaving arts in the village of Huacahuasi, guests can choose between a challenging hike to a town on a turquoise Andean lake or opt for an easy walk to a nearby waterfall before a cooking class and lunch at a mountain lodge.
Besides stops at remote archaeological sites, the tour focuses on the rich culinary heritage of the Incas, the colorful culture of the Peruvian highlands, jaw-dropping views of cloud-covered mountain ranges and plenty of time to explore the Sacred Valley of the Incas.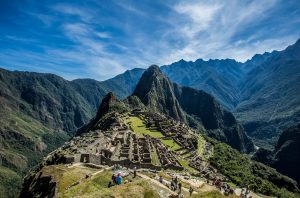 The adventure wraps up at the ancient city of Machu Picchu, set on the slopes of the Peruvian Andes nearly 8,000 feet above sea level.
There, visitors can explore centuries-old palaces, temples, terraced gardens and all kinds of other structures, some 200 in all.
A tip to participants in the journey: Leave lots of room in your closet for "I (heart)" tee-shirts from shops in villages such as Chinchero, Choquecancha, Urquillos, Pisac and Viacha.
Or from vendors at the ruins of centuries-old cities like Tambomachay, Puca Pucara, Q'enqo, Ancasmarca, Ollantaytambo, the fortress of Sacsayhuaman and of course the tour's crown jewel at Machu Picchu.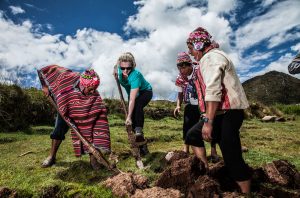 The 10-day tour (starting with two days of sightseeing in and around Cusco) is offered by luxury adventure operator International Nature and Cultural Adventures, INCA for short.
Ten more departures are scheduled this year between Sept. 28 and Dec. 23 at prices starting at $4,995 per person, double occupancy. Weekly departures are set for 2018 between March 3 and Dec. 20.
The tab next year starts at $5,245 per person, double occupancy. Airfares from home to Peru and back are not covered.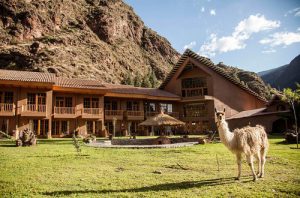 For more details see the tour's website, https://www.inca1.com/adventurers-route-to-machu-picchu/overview/.
Based in Emeryville, Calif., INCA has been creating adventure tours for nearly 40 years to exceptional destinations around the globe. Its scheduled journeys are limited to eight to 16 travelers.
Photos courtesy of International Nature and Cultural Adventures.