Miami, Sep 16 (EFE).- Close to 90 percent of power-company customers in Florida have recovered their electricity almost a week after Hurricane Irma hit this state last Sunday and left some 6.7 million buildings in the dark.
According to the Florida Division of Emergency Management, which receives its data from the power companies, a total of 1,074,469 customers were still without electricity as of noon Saturday, a figure equivalent to 10.2 percent of the total.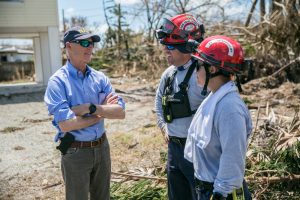 Among the counties hit hardest by the lack of power was Monroe County, which includes the Florida Keys, where the eye of Irma made landfall last Sunday morning as a Category 4 hurricane, then blasted its way up the west coast of the Florida peninsula.
In that county, 55 percent of power customers, a total of 35,010 accounts, are still without electricity, though the central Highlands County has the most power outages, with 67 percent of users (41,897) still in the dark.
In Miami-Dade, the most densely populated county in the state, 190,550 users were without electricity (17 percent), including some schools and educational centers, which has kept education authorities from announcing when classes will start again.
Florida Power & Light (FPL), one of the main electricity suppliers of the state, said Friday it has restored power to more than 97 percent of key installations and establishments such as hospitals, emergency care units, ports and airports, barracks and correctional facilities.
FPL expects to have restored electricity to Florida's eastern counties by this Sunday night at the latest, while the west coast will have to wait until next Friday.
In Broward County, just north of Miami-Dade, 99,014 homes and offices remain without power, a total of 933,300 accounts, according to the Florida Division of Emergency Management.
This office notes that getting the power back in operation, with the effort of more than 30,000 workers since Irma slammed through Florida, signifies the biggest job of restoring electrical energy in the history of the state.
The provisional figure for the number of deaths caused by Hurricane Irma in the southeastern United States (Florida, Georgia and South Carolina) has now risen to at least 39, while the final value of the damage and destruction will take months to determine.
In the Florida Keys, where the eye of the hurricane struck as a Category 4, at least eight people died and more than 40 were injured, according to official figures.