Washington, Sep 26 (EFE).- The acting head of the US Drug Enforcement Administration, Chuck Rosenberg, resigned on Tuesday from the post he has occupied since May 2015, during which time he has headed a strong campaign to fight the growing abuse of painkillers and heroin.

The resignation will become effective on Oct. 1, a DEA spokesperson told EFE.

The spokesperson refused to specify why Rosenberg decided to leave the DEA, although The Washington Post pointed to disagreements he has had in recent months with the Donald Trump administration and especially with Attorney General Jeff Sessions, who is in charge of supervising the DEA.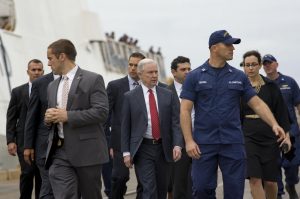 According to the capital daily, Sessions and Rosenberg have different visions about how to fight Mara Salvatrucha (MS-13), a gang that operates in the US and has transformed El Salvador into one of the world's most violent countries, and a group which Sessions declared war promising to decapitate it with a dynamic police offensive.

Sessions wants the fight against MS-13 to be a priority, while – for years – the DEA has devoted resources to fighting Mexico's Sinaloa, Juarez and other drug cartels, who have been designated as a growing threat in the agency's recent reports.

In resigning, Rosenberg on Tuesday sent an e-mail to the approximately 5,000 agents the DEA has stationed in 69 countries, including Colombia, Ecuador, Argentina, Spain and Germany.

"Almost two and half years ago, I wrote to express how grateful I was to join the DEA … to see up close your amazing work," Rosenberg wrote.

"I was proud to support your unique and vital mission and to tout your accomplishments everywhere I went. Now, during my last week, I write to thank you for your courage, integrity and devotion," he said.

Rosenberg found himself on the front page of many newspapers in late July when, in response to remarks by Trump, he sent a memo to DEA employees and asked them to always act with "honor" and in accord with the "highest standards" when they handled people suspected of committing crimes.

His response came after Trump told a group of agents in New York that they should not be "too nice" when they arrest "thugs," thus seeming to condone police brutality.

In a memo sent to DEA personnel at the time, Rosenberg said that although he did not believe that any DEA officer would mistreat a defendant," he felt compelled to respond to Trump's remarks, saying the president had "condoned police misconduct."

"I write to offer a strong reaffirmation of the operating principles to which we, as law enforcement professionals, adhere," he said in the memo.

At present, it is not clear who will be tapped to replace Rosenberg, although sources privy to internal DEA discussions quoted by The Washington Post are pointing to Col. Joseph R. Fuentes, the head of the New Jersey state police.

Rosenberg replaced Michele Leonhart, who had headed the agency from 2007-2015, after she had to resign when it became public that several DEA agents had participated in "sex parties" with prostitutes in Colombia.