Las Vegas, USA, Oct 2 (EFE).- Stephen Paddock, the shooter who killed 59 and injured more than 500 Sunday night in Las Vegas, had stockpiled a total of 42 firearms in his home in Mesquite, about 130 kilometers (80.7 miles) from the site of the incident, and in the hotel room where he was staying.
Authorities found 19 weapons from his home in Mesquite, a small city in Nevada, and 23 in the hotel room from where Paddock opened fire on some 22,000 people who were attending an open-air concert at a country music festival, said Todd Fasulo, Assistant Sheriff of Clark County (of which Las Vegas is a part) Monday.
Paddock also had in his possession two other devices that could transform his semi-automatic weapons into automatic ones, Fasulo added.
Police also found in Paddock's car several kilos of ammonium nitrate, a substance used in the manufacture of explosives.
The 64-year-old shooter spent his last moments firing desperately at the police through the door of his room at the Mandalay Bay Hotel, according to Clark County Sheriff Joseph Lombardo.
Paddock also fired at a security guard and a SWAT team, comprising six agents, who were combing the floors of the hotel looking for him, and killed himself before he could be apprehended.
El atacante de Las Vegas poseía un total de 42 armas entre su casa y el hotel
Las Vegas (EE.UU.), 2 oct (EFE).- Stephen Paddock, el hombre que dejó 59 muertos y más de 500 heridos en un tiroteo ocurrido el domingo por la noche en Las Vegas (Nevada), poseía un total de 42 armas entre su casa de Mesquite, a unos 130 kilómetros del lugar de los hechos, y la habitación del hotel donde se hospedaba.
Según informó hoy Todd Fasulo, ayudante del sheriff del condado de Clark, al que pertenece Las Vegas, las autoridades encontraron 23 armas de fuego en la habitación del hotel desde donde Paddock disparó a discreción a las 22.000 personas que asistían a un concierto al aire libre de un festival de música country.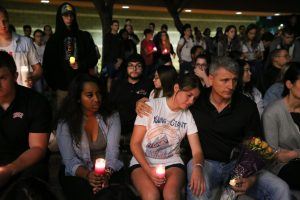 Otras 19 armas de fuego han sido halladas en su residencia de Mesquite.
Paddock, según explicó Fasulo, poseía también dos dispositivos que, colocados en la culata de sus armas semiautomáticas, le permitieron abrir fuego de forma completamente automática.
Además, la policía encontró en el vehículo del atacante varios kilos de nitrato de amonio, un material empleado para la fabricación de explosivos.
El tirador pasó sus últimos momentos disparando desesperadamente contra la policía a través de la puerta de su habitación en el hotel Mandalay Bay, según relató el sheriff del condado de Clark, Joseph Lombardo.
Paddock disparó a un guardia de seguridad y abrió fuego contra un equipo de la unidad de elite SWAT, formado por seis agentes que fueron revisando el hotel piso a piso.
"Creemos que el individuo se quitó la vida antes de que entráramos a la habitación", sostuvo Lombardo.