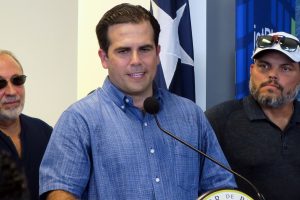 San Juan, Oct 2 (EFE).- The Puerto Rican government is hoping that the upcoming visit of US President Donald Trump will lead to an increase in federal assistance to the island as it struggles to recover from Hurricane Maria.
Puerto Ricans are proud of being US citizens, Gov. Ricardo Rossello said Monday, a day before Trump is expected to arrive.
Maria slammed into Puerto Rico on Sept. 20 as a Category 4 storm, causing at least 16 deaths and massive destruction. The hurricane's impact left the entire island without electricity, clean water and telephone service.
Rossello forecast Monday that the proportion of households with electricity will rise to 25 percent by next month.
Water and sewer service has been restored to roughly 47 percent of households and fixed-line telephone connections are almost fully operational.
More than 30 percent of cell-phone subscribers have service, the governor said.
Beyond dealing with the immediate emergency, Rossello said that Puerto Rico's position as a "colonial territory" puts it at a disadvantage compared with the rest of the United States in terms both of long-term recovery and of being prepared to cope with emergencies.
Being a US commonwealth – the official term is Free Associated State – rather than a fully fledged state is at the "root" of Puerto Rico's chronic difficulties, the governor said.
Rossello said that statehood is the only way to improve the quality of life for the island's 3.5 million residents, who have endured a decade-long recession made worse by austerity policies as Puerto Rico labors under $72 billion in debt.
More than 7,000 civilian federal workers and a much smaller number of US military personnel are in Puerto Rico to deliver aid and assist with relief efforts, though many have criticized Washington for taking too long to ramp up the response to the devastation.
Neither Washington nor San Juan have ventured to quantify the damage, but the figure is certain to run into the billions of dollars and it remains unclear how that cost will be met, though members of Congress were said to be negotiating with the Trump administration on a potential $13 billion aid package.
Residents continued waiting in long lines Monday for cash, gasoline and groceries and while San Juan is showing signs of gradual improvement, authorities have yet to inspect the damage in remote rural areas.
"We've been increasing the number of gas stations that are open," the governor said, adding that more than 700 of Puerto Rico's 1,100 service stations are functioning.