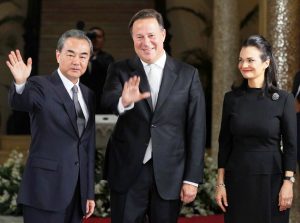 Panama City, Oct 17 (EFE).- The government of Panama on Tuesday suspended visa restrictions on Chinese citizens, who now only need a stamp and pay the cost of processing of up to $50, according to officials.

Panama's Foreign Ministry said in a statement Tuesday that this immigration measure is part of efforts to "strengthen trade and tourism" with China, a country with which Panama formally established diplomatic ties in June to the detriment of Taiwan.

Until now, Chinese citizens have had to apply for an authorized visa for restricted nationalities, which requires an investigation by the National Security Council under a costly process, according to official information available.

Signed by the Panamanian president Juan Carlos Varela on Monday and coming into force on Tuesday, the Executive Decree 552 "establishes that a multiple entry and exit visa of up to three years may be issued, in accordance with the verification criterion of the officials designated in the Consulates, and that the fee cannot exceed $50."

The Foreign Ministry also mentioned that on Jul. 25 the Panama Embassy in Beijing was inaugurated, and that the opening of consulates in Guangzhou, Hong Kong and Shanghai is planned.

President Varela plans to visit China in November, according to his statement on Oct. 2, to sign 20 agreements, one of which will pave way to negotiations of a free trade agreement (FTA).