By Lina Broydo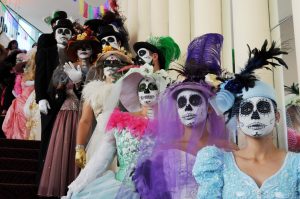 Dia De Los Muertos Concerts and Celebrations at Davies Symphony Hall 
November 4 at 2 p.m. and 8 p.m.
Dia De Los Muertos, the Day of the Dead, is a rich tradition that originated in Mexico and celebrated annually in Mexican-American communities throughout the U.S. It is a celebration of life of the departed ancestors who are remembered with love and affection in the vibrant and colorful festivities and concerts of music of Mexico and Latin America at the beautifully decorated by local artists and talented kids Davies Symphony Hall in San Francisco.
The 2pm concert begins with a neon Quetzalcóatl serpent dance performed by musical ensemble Canción de Obsidiana and theater group Casa Círculo Cultural. Conductor Alondra de la Parra and the SFS begin the concert with Mexican orchestral works including Huapango by José Pablo Moncayo, Sensemayá by Silvestre Revueltas, and Danzón No. 2 by Arturo Márquez.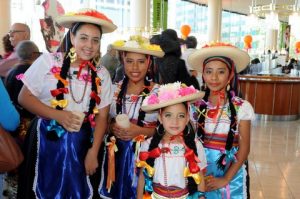 Mexican cultural icon Eugenia León performs songbook selections with the orchestra during the second half of the concert, with pieces specific to the holidays and selections from her own catalogue of hits accompanied by the Orchestra, including Luz, La Sandunga, Amar y Vivir and many others.
A second concert at 8pm will again begin with the neon Quetzalcóatl serpent dance, and brings León back to the stage for an intimate acoustic-style evening of songs with her band only, featuring a program with an international flair.
Pre-concert festivities in the Davies Symphony Hall lobbies include original art installations and altars by Bay Area visual artists, singing, dancing, sugar skull decorating, and other family-friendly activities.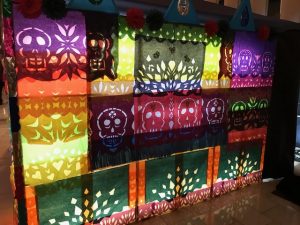 Please note: The Orchestra of the San Francisco Symphony does not perform on the 8pm concert.
Tickets and Information
Prices start at $25
Group discounts available; children 18 and under receive half-price tickets
415-864-6000
www.sfsymphony.org/dia
Davies Symphony Hall
 Grove Street in San Francisco
Photos courtesy of SF Symphony and Lina Broydo
"It Can't Happen Here" Happens in Los Altos Hills
Through November 19.
Performances are held on Thursdays through Sundays
The cautionary dark satire play, based on Sinclair Lewis 1935 novel and adapted for the stage by Tony Taccone and Bennett S. Cohen, brings to life a scenario about a political populist candidate, who promises to return the country to greatness as he becomes the President of the United States.
And then all hell breaks loose in "It Can't Happen Here" in a new play presented by Foothill College Theatre Arts. Sounds familiar? Some things never change..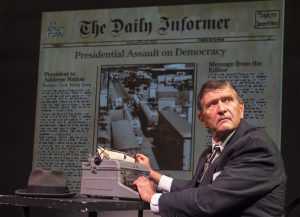 The play follows a liberal, middle-class newspaper editor from Vermont (is the character based on Senator Bernie Sanders?) who witnesses the rise of unlikely candidate to the presidency resulting in the system crumbling down. And that's politics, my friends.. Hmmm, it must be all Sinclair Lewis' fault. I guess you need to see the play to find out the results.
Tickets and Information
Prices range from 10 to $20
650-949-7360
Foothill College's Lohman Theatre
12345 El Monte Road in Los Altos Hills
Photo courtesy of David Allen
Prelude to the Kiss in Sleeping Beauty 
November 9
Aurora's magical world and her beautiful costume can be yours!  For the first time ever, San Francisco Ballet will be auctioning off costumes from the celebrated original run of The Sleeping Beauty at the Prelude to the Kiss, a cocktail party with exclusive first look at the costumes for the revival of The Sleeping Beauty. Hosted by the SF Ballet Auxiliary at a private residence in San Francisco's Presidio Heights, this elegant evening will give guests a behind-the-scenes look at the legendary choreographer and Artistic Director Helgi Tomasson's spectacular production. Celebrated Bay Area chef Charles Phan known for opening restaurants such as The Slanted Door, will design a vibrant and delicious menu of appetizers featuring his signature Vietnamese-inspired cuisine for the cocktail reception and costume preview.
Leading up to the event, costumes from the original production will be available online for early bids. The costumes will be on display at the event on November 9, so you can get a closer look. Bidding will end that evening during the event. And remember: Aurora's romance will bloom again on January 23 as the Prelude to the Kiss guests will be invited to opening night festivities for The Sleeping Beauty. This is truly a dream come true event for the ballet lovers as well as for the collectors of original costumes. The private location of the Prelude to the Kiss event will be revealed once the ticket is purchased.
Tickets and Information
Prices start at $500.
415-865-2000
War Memorial Opera House
301 Van Ness Avenue in San Francisco
Photo courtesy of SF Ballet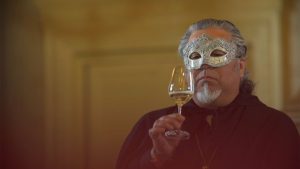 The Duel of Wine (Il Duello Del Vino)
November 12 at 6 p.m.
Here are some cheers-ful news from the city's Italian Film Festival's closing night as they present a very exciting and happy celebration of wine on and off the screen. A perfect pairing for the Bay Area's love of wine and its surrounding culture, The Duel of Wine is a comic portrait of a charismatic sommelier, Charlie Arturaola, who takes a mighty fall from grace when he temporarily loses his palate. Charlie tries to claw his way back into the world of competitive wine tasting as a ghost-taster for a handsome but buffoonish friend. It's a gleeful satire of the obsessive world of drinking and dining contests. Well, we know it well in the Bay Area.
Lino Pujia, actor/producer and Charlie Arturaola, actor will attend the screening. Closing Night film includes a glass of wine! Purchase Film only tickets (including a glass of wine). The fun event is a part of The Italian Cultural Institute of San Francisco and New Italian Cinema Events (N.I.C.E) of Florence, Italy as they present New Italian Cinema Festival on November 8-12, 2017; November 8 at the Castro Theatre in San Francisco and November 9-12 at the Vogue Theatre in San Francisco. Toast Charlie Arturaola and  Lino Pujia in person at an intimate Wine Tasting Party at Osteria Restaurant. Ciao, see you at Osteria!
Tickets and Information
Prices for film only range from $12 to $14 for general admission
Film & Wine-tasting Party (or Wine-tasting Party only): General Public $60; Italian Cultural Institute members, KQED members, Italian Athletic Club members and pass holders $50. Must be 21 years of age or older!
415-552-5580
Party Venue: Sunday, November 12, 8:30pm-9:30pm;
Osteria Restaurant, 3277 Sacramento Street in San Francisco
 Photo courtesy of New Italian Cinema