March 27, 1993
by Yolanda Reynolds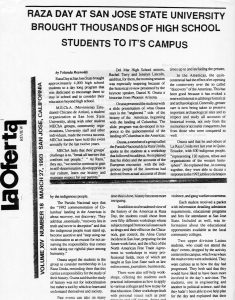 Raza Day at San Jose State brought approximately 4,000 high school students to a day long program that was dedicated to encourage them to stay in school and to consider their education beyond high school.
M.E.Ch.A. (Movimiento Estudiantil Chicano de Aztlan), a student organization at San Jose State University, along with other student MEChA groups, community organizations, University staff and other individuals, made the event a success. MEChA leaders have held this event annually for the last twelve years.
MEChA feels that their groups' challenge is to, "break all barriers that confront our people." "As Raza," they say, "we need to continue to gain in self-determination, develop pride in our culture, in learn our history and maintain respect for our parents."
Del Mar High School seniors, Rachel Terry and Jenelyn Lincoln, said that, for them, the morning session was especially inspiring because of the historical review presented by the keynote speaker, Daniel R. Osuna a historian from Phoenix, Arizona.
Ozuna presented the students with a slide presentation of what Osuna says is the "neglected" side of the history of the Americas, beginning with the landing of Columbus. The slide program was developed in response to the quincentennial of the landing of Columbus in the Americas.
Osuna, a member of a group called the Partido Nacional de la Raza Unida, spoke to the students at a workshop that followed his address. He explained that his slides and the accounts of the European encounter with the indigenous people of the Americas had derived from actual accounts of those times up to and including the present.
In the Americas, the quincentennial had the effect of re-opening the controversy over the so called "discovery" of the Americas. This has been good because it has evoked a renewed interest in all things historical and archaeological. Generally, greater care is now being taken to preserve important archaeological sites and to respect and study all accounts of historical events, not only from the memories or accounts conquerors, but from those who were conquered as well.
Osuna said that he and others of La Raza Unida met last year in Quito, Ecuador, with 400 indigenous people, "representing 120 nations, tribes and organizations of the western hemisphere." He explained that, in coming together, they were able to discuss a response to the 1992 jubilee celebration by the indigenous people.
The Partido Nacional says that the "1992 commemoration of Columbus" landing in the Americas is about recovery, not discovery. They add that, essentially, "recovery lies in truth and never in deception" and that the indigenous people must stand up, become assertive and "stop using our victimization as an excuse for not assuming the responsibility that comes with taking our rightful place among humanity."
Osuna urged the students in the group to consider membership in La Raza Unida, reminding them that this carries a responsibility for the study of their history. Osuna said that the study of history was not for indoctrination but rather a tool by which to learn and understand themselves and society.
Past events can take on many hues and b revisited repeatedly. Each time this is done, history becomes more intriguing.
In addition to a broadened view of the history of the Americas at Raza Day, the students could chose from over fifty different workshops whose subjects ranged from social issues such as drugs and their effect on the Chicano/a, gun control,, the Alma Center incident in San Jose, preparing for the future work force, and the effect of the North American Free Trade Agreement to workshops in many professional fields, most of which are taught at San Jose State such as law enforcement, journalism, business etc.
There were also self-help workshops, offering the students such practical information as how to apply to various colleges and how to pay for that education. Other workshops dealt with personal issues such as peer pressure and self-esteem dating and violence, and gang warfare awareness.
Each student received a packet with information detailing admission requirements, educational programs and fees for attendance at San Jose State. Included as well, was information about the educational opportunities available at the local community colleges.
Two upper division Latino students, who could not attend the days' events, dropped by the activity center on the campus, which was where the main events were scheduled. They were curious as to how the day had progressed. They both said that they would have liked to have been more involved in the day's activities. The students, one in engineering and another in political science, said that they hadn't been able to eve help plan for the day and explained that their studies did not allow them a moment to spare, because they were working part time and attending school full time.
Anabel Ybañez, one of the University student leaders of this very successful event, said that, besides the workshops and the early morning lectures, it was very important for the high school students to have an opportunity to actually walk around the campus and get a sense of what a college campus is like, and to see that the school had many other students that looked like them who were doing well in college.
It is important for the youth to seriously consider higher education. According to the University, 95 percent of bachelors' degree graduates who were available for employment were employed. They also point out that the average bachelor's and master's University graduates earned an average of $2,432 per month.
Students who haven't yet made up their mind where they want to study after graduation from high school will have an opportunity on Saturday, March 27, to spend time learning more about the special Enlace Program offered at Evergreen Valley College. The Enlace program offers a package of basic skills courses along with motivational and special counseling for its participants. An Open House and college information is scheduled from 10:00 a.m. to 2:00 p.m. at the campus at 3095 Yerba Buena Rd. in San Jose.
Those attending the College information day at Evergreen Valley College will be hosted to a free lunch, as well as live DJ music.
Whether you will soon graduate from high school or did some years ago, if you wish more information regarding higher education you may contact the Enlace Student Association at 274-7900 extension 6652 or San Jose State University 924-364.
A video tape of the slide presentation presented by Daniel Osuna is available by writing El Partido Nacional de la Raza Unida, PO. Box 1943, Phoenix, Arizona 85001 or by telephone at (602) 243-9835. ©La Oferta Newspaper.