April 14, 1993
By Yolanda Reynolds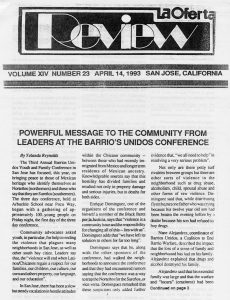 The Third Annual Barrios Unidos Youth and Family Conference in San Jose has focused, this year, on bringing peace to those of Mexican heritage who identify themselves as Norteños (northerners) and those who say that they are Sureños (southerners). The three-day conference. held at Arbuckle School near Poco Way, began with a gathering of approximately 100 young people on Friday night, the first day of the three-day conference.
Community advocates asked youth, in particular, for help in ending the violence that plagues many neighborhoods in San Jose, as well as other south bay cities. Leaders say that, the "violence will end when Latinos/Chicanos regain a respect for our families, our children, our culture, our own and others property, our language, and our education".
In San Jose, there has been a slow but steady escalation in hostile attitudes within the Chicano community – between those who had recently immigrated from Mexico and longer term residents of Mexican ancestry. Knowledgeable sources say that this hostility has divided families and resulted not only in property damage and serious injuries. but in deaths for both sides.
Enrique Dominguez, one of the organizers of the conference and himself a member of the Black Beret Por la Justicia, says that 'Violence is a community issue and the responsibility for changing all of this – lies with us". Dominguez adds that "we have left its solution to others for far too long".
Dominguez says that he, along with the other sponsors of the conference, had walked the neighborhoods to announce the conference and that they had encountered rumors saying that the conference was away to trap the Norteños for the Sureños, or vice versa. Dominguez remarked that these suspicions only added further evidence that, "we all need to help" in resolving a very serious problem."
Not only are there petty turf rivalries between groups but there are other sorts of violence in the neighborhood such as drug abuse, alcoholism, child, spousal abuse and other forms of raw violence. Dominguez said that, while distributing flyers he met one father who was crying because his twelve year old son had been beaten the evening before by a dealer because his son had refused to buy drugs.
Nane Alejandrez, coordinator of Barrios Unidos, a Coalition to End Barrio Warfare, described the impact that the loss of a sense of family and neighborhood has had on his family. Alejandrez explained that drugs and alcohol destroyed his family.
Alejandrez said that his extended family was large and that the warfare and "locura" (craziness) had been devastating to them. He said that twenty of his relatives were in prison, ranging in age from 14 to 45. He discussed how much it hurts to experience this horrible situation. In addition, he said, seven of his relatives had been killed – two of them were his brothers.
Alejandrez pointed out that the problems in the barrio will not be easy to resolve. He said that the effort to bring about change could not be successfully accomplished in a "sprint" but rather it would be like a "long distance rim" and he promised that he and others were dedicated to be there for the "long haul."
He explained that the work in the community can be "lonely" but, that by using all of the resources available change would come. He said that one of the resources that was vital for achieving the recovery of the barrio would be the help and support of ex-offenders. He explained that there were many good men in prison who, more than anything, wanted to help their "carnales" (friends/relatives) from suffering as they have.
Dimas Martinez, a former correctional officer who worked at San Quentin, urged those present to join him in "putting our children together" to "make them whole." He explained that too many children were suffering front the effects of broken homes, drug addicted parents and simple neglect.
As he spoke a complete silence took over the audience, as he recounted some of his experiences as a correctional officer at one of the toughest prisons in California. He said that he met men there who were good but broken men. He said that while in prison they had hours and hours to contemplate how they went bad.
Martinez explained that life in prison is tenuous at best. To survive in prison, men must join gangs. Life could end foolishly, or in ignorance, for simply taking the favorite place of another prisoner in the prison cafeteria.
With so many Latinos in jails and prisons, Martinez said that he decided to work in the judicial system, where he eventually ended up working as a correctional officer.
Martinez said that, when he went to work at the prison, he soon realized that although he wanted to help the prisoners, they were very suspicious of him because they were used to being treated with little or no respect by the guards and even less so by the fellow prisoners.
Martinez said that his way of helping the prisoners was to get help for them with personal problems such as seeing to it that toilets functioned and that they got medication when needed. Sometimes it even involved getting rid of bed bugs, roaches or other vermin infestations in their cells.
In time, Martinez was not seen as a "do gooder" by the prisoners but as someone who would listen to them and treat the prisoners but as human beings. Martinez' caring behavior got him into trouble with the prison administration. Their attitude towards the prisoners and himself became more than he could deal with.
In frustration, he too turned to drugs until he was within minutes of dying front an overdose of drugs. He collapsed on a street in Oakland where a woman passing by used mouth to mouth resuscitation to revive him.
Martinez says that this experience changed him and that he is resolved to make up for his past behavior by 'bringing attention to the impact that the neglect of our children is having on so many of them. He says that he cannot continue to allow this neglect and we all must think of the children's welfare.
Martinez says that children are looking for leaders and that we must give them good examples, and show them that there are "alternatives to pimping and dealing drugs" and he says that we "must find our hearts for our children".
Martinez said that we can no longer just say things, we must be judged by our actions. He pointed out that there was movimiento (movement) of La Raza twenty years ago but – "what happened?" He urged those present not to lose faith and know that hard work would pay off.
Felix Alvarez, executive director of El Teatro de Los Pobres, a grass roots group dedicated to using theater as way to communicate with the community, was also one of the conference presenters and sponsors.
Alvarez stressed the need to regain the sense of community in the barrio that has been lost over time. Alvarez said that, "where I grew up I knew who I was – I didn't think I was a nobody." He explained that in his neighborhood everyone was very protective of the children.
Alvarez related that, he was growing up, if his Mom called for him to come in and he didn't respond, then his father would call and, if he still didn't come home then a neighbor would join in and then another until he came home. Alvarez says that if he heard a neighbor calling him, he knew he was in "big trouble" so he didn't dare venture too far from home. That sort of concern kept not only him but all of the other kids from straying too far from home. It also told him that the neighbors were looking out after each other and the children.
Alvarez explained that, even though he could get into trouble if he didn't answer his parents when they first called for him, he had the feeling that he was important for his family. Alvarez says that it only took him a few times to realize that he had best obey his parents wishes.
Among others who spoke on Saturday were Miguel Diaz, a San Jose State University student. Diaz spoke about the work of University students at the Alma Community Center where they now provide after school study space and tutoring for grade and high school students.
Diaz also recounted the difficulties that he and fellow University students have had with some San Jose Police Officers, who arrested the University students and accused them of being a "gang" when they were demonstrating in front of the Center because of problems they were having obtaining space there.
For Diaz, that was a "wake-up call" regarding the extent to which our civil rights have deteriorated in San Jose. Diaz and other University students, the American Civil Liberties Union, the San Jose Bar Association and numerous community based organizations have been asking for the establishment of a Civilian Review Board for the San Jose Police Department. The City and the Chief have balked at the suggestion and have instead decided to establish a Police Auditor is a totally inadequate response to the City's needs. Problems remain and the issues continue to fester.
Diaz was a valedictorian of his high school graduation class and is currently an engineering student enrolled at San Jose State University. Before the incident occurred at the Alma Center, Diaz had been honored for his community work by the Mayor's office – but, even so, he and other University students were arrested by the police for merely expressing their opinions.
Diaz and the others were fortunately defended by a competent lawyer and he did not have to spend time in jail.
It is just the lack of such competent defense that has allowed so many innocent, but poor people, many, many of whom are Latino and African Americans, to end up in jail and eventually prison.
Maria Ortiz from the Barrio Art Gallery, a human rights advocate, pointed out that there are eighteen Mexicans Nationals of death row in U. S. prisons. This, she feels, is due to poor legal representation. A number of those awaiting death are in Texas prisons.
According to Alvarez, in his hometown in Texas no one called on the police department for help because, in Texas, the police were notorious for unprofessional conduct when dealing with minority people. Instead, he says, neighbors in a firm and caring way would help others resolve their problems.
As Alvarez pointed out that what "we want in San Jose are clean streets where children can walk without fear, educational and employment opportunities for our children, parks and all of the things that make a neighborhood 'home'."
The Barrios Unidos Youth and Family Conference leaders are working hard to bring peace between the Sureño and Norteño groups. Dominguez said that neutral zones must be established because the conflict its breaking families into separate Waring camps and bringing grief to the community. This friction, he says, is wasting opportunities and bringing chaos to the barrio.
The three-day Conference was held at Arbuckle School near the intersection of King and Poco Way, where there have been many problems. The situation there has become so severe, especially at the nearby Poco Way Apartments that City officials have decided to establish a neighborhood services office there and have even purchased some of the worst apartment buildings in the crime infested area so that they can be cleaned up.
On Friday night, over 100 young people came to discuss the issues and their concerns.
On Saturday, parents and children heard the sad reports that so many in attendance already knew – which is that the violence in the neighborhoods is taking a severe toll on their community.
As Alvarez pointed out, "for the many people who say we don't care about our children, yes we have parents into drugs, alcohol – they are sick. That is not our way! (to neglect our children). We have to do it! We are going to do it! Others don't care – its about our lives – the lives of our children.
The leaders of the conference vowed to walk the streets with their message. They do not want spread of the madness and sadness that is consuming parts of East Los Angeles and Oakland to also consume San Jose barrios.
Sponsors of the Conference were Barrio Art Gallery, MECHA-SJSU, the Association of Mexican American Educators, the California Coalition to end Barrio Warfare, Black Berets for la Justicia, Foro Democrático Mexicano, E.S.O., Alum Rock Teachers Association and the Santa Clara County Bureau of Alcohol and Drug Programs.
For more information on the project, Enrique Dominguez may be contacted at 227-1715. Barrios Unidos may be contacted at 457-8208. © La Oferta Newspaper.