May 1, 1993
By Yolanda Reynolds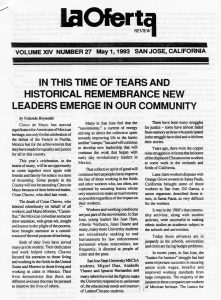 Cinco de Mayo has special significance for Americans of Mexican heritage, not only for the celebration of the defeat of the French in Puebla, Mexico but for the achievements that they have made for equality and justice for all in this country.
This year's celebration, in the hearts of many, will be an opportunity to come together once again with friends and family for solace in a time of mourning. Some people in the County will not be attending Cinco de Mayo because of their beloved leads, Cesar Chavez, who died last week.
The death of Cesar Chavez, who labored relentlessly on behalf of all workers, and Mario Moreno. "Cantinflas," the Mexican comedian and actor drew attention, with great wit, insight and humor to the plight of the poorest, have brought attention to a consideration of the real purpose of our being.
Both of their lives have served many as role models. Their dedication and work helped others; Chavez focused his attention to those living and working in the fields in the United States and Moreno to them living and working in cities in Mexico. Their lives demonstrate that there are different avenues that may be pursued to improve the lives of others.
Many in San Jose feel that the "movimiento," a current of energy striving to direct the collective spirit towards improving life in the barrio and the "campo," has and will continue to develop new leadership that will continue the work that began with early day revolutionary leaders in Mexico.
That collective spirit of goodwill continues here as people rise to improve the fate of those working in the fields  and other workers who, too often, are exploited by uncaring bosses whose only interest is to make as much money as possible regardless of the impact on their workers.
Workers and working conditions are just part of the movimiento. In San Jose, young leaders like Juan Haro, Alberto Verdusco, Jesus Duarte and many, many more University students are relentlessly seeking to end harassment by law enforcement personnel whose misconduct, too frequently, is directed at people of color and the poor.
San Jose State University MEChA students, Miguel Diaz, Anabelle Ybanez and Ignacio Hernández and many others have led the fight to make the University responsive to, and aware of, the educational needs and interests of Latino/Chicano students.
There have been many struggles for justice – some have almost faded from memory as those who participated in the struggle have died and with them their stories.
Years ago, there were the copper mine struggles in Arizona that led some of the displaced Chicano mine workers to come work in the orchards and fields of California.
Later, farm workers disputes with Orange Grove owners in Santa Paula, California brought some of those workers to San Jose. Gil García, a union organizer, described those times, in Santa Paula, as very difficult for the workers.
It was in the 1960's that community activists, along with student activists, were successful in making ethnic studies an academic subject in the schools and universities.
Today those advances are in jeopardy as the schools, universities and cities are facing budget problems.
In recent years, in San Jose, the "Justice for Janitors" struggle has had some important successes in securing union scale wages, benefits and improved working standards from large companies. The majority of the janitors in these companies are workers of Mexican heritage. The Justice for Janitors, led by Mike Garcia, Teresa Castellanos, John Barton and other on Local 1877 SEIU are now concentrating their campaign on improving the lot of janitors employed by mid-sized companies.
Their campaign for justice resulted in success when it became too embarrassing for many of the Valley's well-known companies to deny the plight of the janitors while it's Chief Executive officers were annually paid millions of dollars.
Another current issue in San Jose, neighborhood libraries/education and the possible closure of the Biblioteca Latinoamericana for want of general fund monies, is of serious concern. Here again, the Latino community, led by many parents is standing by, and is strongly voicing support for the biblioteca.
Just several weeks ago, the San Jose City Council heard hours of testimony from the community regarding the importance of the Biblioteca to the Latino community. This library, unlike any other in the country, provides Latinos an opportunity to learn about and study their heritage.
Such an understanding brings pride to succeeding generations. It also offers an opportunity to learn from previous mistakes.
The Biblioteca's collection of books, in both Spanish and English is related to Latino/Chicano history, literature and culture and is almost entirely work produced by Latino writers and scholars.
For too long, history has been transmitted by the conqueror or thers whose knowledge of the Latino/Chicano culture and experience was inaccurate. In those accounts and reports the traditions, values and heroes of La Raza were lost.
Some critics say that bilingual education and ethnic studies cause division and should be abandoned, particularly since funding is scarce.
Most of the Latino community strongly disagrees and points out that it is ignorance of one's and each others history and achievements, that often results in serious misunderstandings between people.
As California's population has become more diverse, respect for and understanding of one's own, as well as other's traditions and history is even more urgent and important.
There are many groups and organizations that have contributed to making San Jose a center for activism that spans business development, political empowerment, student achievement and community development.
For example, La Confederación de La Raza Unida (C.R.U.) which has a long history of achievements in San Jose was founded almost twenty-five years ago. It was in 1969, when they opposed a city sponsored celebration La Fiesta de Las Rosas, that the CRU became a county wide organization.
The CRU was opposed to the Fiesta because of its glorified portrayal of the conquest of lands of the Indian people of California.
According to Ernestina Garcia, a long-time member of la Confederación, it was at that time that the CRU, along with others, were successful in introducing Mexican-American history, literature and culture into the academic curriculum. Milpitas Unified School District even declared Cinco de Mayo a school holiday.
Problems remained in the schools, however. In the San Jose Unified School District, the largest school district in Santa Clara County, many parents felt that the Districts resources were equally distributed and that the Latino/Chicano children of the District suffered unduly since they were essentially attending segregated schools.
In November of 1971, under the banner of La Confederación de La Raza Unida, Garcia says, the Unified School District of San Jose was sued in a class action suit filed in Superior Court where Judge Robert Peckham, now deceased, presided over the case.
The Jose Diaz family was named the plaintiff in the suit.
La Confedcración won their case against the district which today is still under that court ordered desegregation plan.
Among other activities, Garcia says, La Confederation led the flight for the districting of San Jose City Council representatives. The issue was placed on the ballot, where it was approved. Districting has been successful in bringing diversity to the Council.
Since them there have been several African American and three Latino council persons. Districting did help make running for office less expensive than large elections.
Recently, however, campaigns are becoming extremely expensive. Generally, the winner is the person who spends the most money. Many feel that election reform is badly needed.
Bright sincere and dedicated leaders are emerging to take up the cause on behalf of the community. A noticeable characteristic of many of those young leaders including Haro, Hernández, Diaz, Duane. Ybañez, Verdusco, John Morales and many others, is that in spite of work and their community involvement, they all have learned to balance their lives in such a way that their studies do not suffer. It is essential that these young leaders of our next generation complete their education.
The community at large, and in particular, the Latino/Chicano community of San Jose has a great future ahead of it. The potential of these young people requires, of all of us, that we not miss one opportunity to nourish their desires and opportunities to achieve the goals that they have set out for themselves and the betterment of the community.
Cinco de Mayo serves to remind us all that, even while facing great obstacles, success is possible and even likely with the application of intelligence, skills and dedication.
Viva Cinco de Mayo! © La Oferta Newspaper.