By Lina Broydo
The Debut of the Sharks Alumni Foundation
Bay Area Fire Relief charity hockey game will take place on Dec. 8
The National Hockey League's champions and the Bay Area residents Evgeni Nabokov, Doug Wilson, Owen Nolan, Jamie Baker, Dan Boyle, Curtis Brown, Bryan Marchment, Kyle McLaren, Tom Pederson, Mike Rathje, Mike Ricci and Mark Smith are inaugurating the newly formed San Jose Sharks Alumni Foundation.
The organization is dedicated to giving back to the Bay Area communities and helping improve the life of others. The Sharks Alumni Foundation inaugural fundraising event, which will be the Bay Area Fire Relief charity hockey game will take place on Dec. 8 at Redwood Empire Ice Arena (Snoopy's rink) in Santa Rosa. Many Sharks alumni, including Hannan, Boyle, Nabokov, Ricci and Nolan will take the ice alongside members of the North Bay police and fire departments to raise money for those affected by the tragic North Bay fires.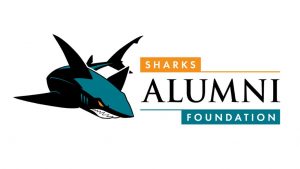 "The first responders who battled the North Bay fires have demonstrated courage well beyond that of any hockey player," said Douglas Murray, the San Jose Sharks Alumni Foundation's president.
"We're looking forward to bringing a night of fun to a community that has gone through so much and hopefully raising some much-needed funds to help replace what was lost." In addition, the Sharks Alumni Foundation will be hosting an online auction on the Foundation's website, featuring the autographed, game-worn jerseys used by the Sharks alumni in the game, as well as many other unique offerings and experiences.
Information
Those interested in learning more can visit www.sharksalumnifoundation.org
Photo courtesy of the Sharks Alumni Foundation

San Jose Youth Symphony Season's Opener
December 2 at 4 p.m.
Enrich your cultural life in Silicon Valley by joining the San Jose Youth Symphony philharmonic orchestra's (SJYS) season opener concert at the beautiful California Theatre located in downtown San Jose.
The performance will showcase winners of the annual Young Artist Competition as well as the top musicians of the SJYS under the brilliant baton of Maestro Yair Samet, the orchestra's conductor and its artistic director. Outstanding young soloists, Emma Tucker, oboe, will perform Mozart's Oboe Concerto in C Major; David Choi, clarinet, will perform Weber's Clarinet Concertino in E-Flat Major; and Bryan Sun, violin, will perform Vieuxtemps' Violin Concerto No. 5 in A minor. Our Philharmonic Orchestra will also perform one of Sibelius's most popular works, The Karelia Overture and conclude with Stravinsky's Divertimento from The Fairy's Kiss, a ballet based on a story by Hans Christian Anderson.

"The SJYS is among the most accomplished youth orchestras I have heard" – Irish Times. A perfect way to spend a lovely Saturday afternoon in the heart of Silicon Valley. You may also add to your calendar the Season of Hope Concert on December 15 at 7:30 p.m. performed by SJYS at the historic Cathedral Basilica of St. Joseph located on Market Street in San Jose.
Tickets and Information
Prices range from $5 to $20
408-885-9220
www.sjys.org
California Theatre is located at 345 South First Street in San Jose
Photo of Yair Samet courtesy of SJYS

Adopt a Pet at  Macy's Holiday Windows
Through January 1, 2018
Macy's windows in Union Square are one of the most popular attraction in town as they unveiled their 31st Annual "Holiday Windows" with elaborately-decorated holiday window displays all along the outside of the building featuring some adorable (and adoptable) cats and dogs to help benefit the SPCA and find these furry friends a new home.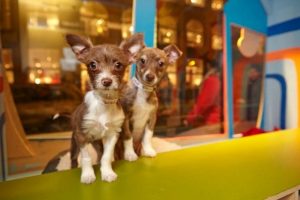 What better way to celebrate the holidays than to volunteer to be a greeter at Holiday Windows? Greeters do the important job of greeting the public, talking about the animals in the windows and about the SF SPCA, directing people to the adoption center inside, and asking for donations.
Over the past ten years, the Holiday Windows have helped the SF SPCA raise over $500,000 and find homes for over 2,500 animals. Before you adopt the pet, head to the Union Square Ice Skating Rink. Happy Holidays!
Information
415-522-3543
Macy's SF is located at 170 O'Farrell Street at Union Square
Photo courtesy of SF SPCA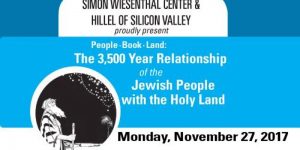 "People. Book. Land" Exhibit in San Jose and Santa Clara
November 27 through 30 in the Student Union of San Jose State University with the VIP Reception on November 27 at 5 p.m.
December 4 through 15 at Santa Clara University Library
"People. Book. Land: The 3,500 Year Relationship of the Jewish People with the Holy Land" – save time and date on your busy holiday season's schedule to view this amazing historical exhibit with the Hillel of Silicon Valley and the Simon Wiesenthal Center as its co-sponsors and presenters.
This is the only exhibition tracing the history affair between people and the Land of Israel to have earned the co-sponsorship of the United Nations. Since its opening at UNESCO world headquarters in Paris, the exhibition has met with acclaim at United Nations World headquarters in New York; The House of Commons on Capitol Hill in Washington D.C.; The Knesset in Jerusalem, The Ghandi Cultural Center in New Delhi, The European Commission Headquarters in Strasbourg as well as in Baku, Buenos Aires, Santiago, Copenhagen, Chicago, and soon to be opened on December 2017 in Tokyo.
This is definitely a unique opportunity to view this special traveling exhibit and listen to the panel of distinguished speakers: Dr. Mary A. Papazian,  President, SJ State University; Ravit Baer,  Deputy Consul General of Israel; Rabbi Cooper, Simon Wiesenthal Center; Jeff Rosen, Santa Clara County District Attorney.
Tickets and Information
No admission charge to view this exhibit
The cost of the VIP Reception in San Jose is $36 per person
www.scu.edu
www.sjsu.edu