By Lina Broydo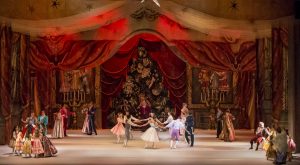 The Dancing Nutcrackers Pirouette all Over the Bay Area
Symphony Silicon Valley Presents Nutcracker with Ballet Stars of Moscow
December 15 through December 24, 2017
If its December – it must be the Nutcrackers time. The enchanting holiday classic returns to San Jose as Symphony Silicon Valley presents a spectacular international production of the Nutcracker. Pyotr Ilyich Tchaikovsky's magnificent music performed LIVE by Symphony Silicon Valley and conducted by Maestro George Daugherty will create a fantasy filled ambiance  for the outstanding Ballet Stars of Moscow in this unique  and colorful staging of the famed ballet.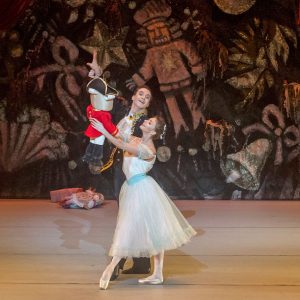 The Ballet Stars of Moscow company was founded by Shamil Yagudin, the renowned ballet master of the Bolshoi Ballet Theater in Moscow, Russia, who assembled leading dancers from The Bolshoi Ballet, Moscow Classical Ballet, Russian National Ballet, Stanislavsky Ballet Theater, Kremlin Ballet, Moscow Festival Ballet, including many dancers who are gold medalists winners from the International Ballet Competitions.
Sponsored by Diane & Lee Brandenburg. This Nutcracker premiere production is definitely not to be missed!
Tickets and Information
Prices range from $45 to $90
408.286.2600, ext.23
www.NutcrackerSanJose.org
San Jose Center for Performing Arts
255 Almaden Blvd. in San Jose
Photos courtesy of Robert Shomler for Symphony Silicon Valley.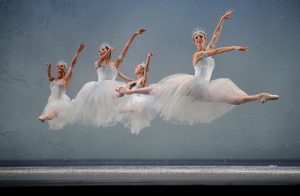 A Uniquely San Francisco Nutcracker
December 13 – 30
On Christmas Eve 1944, the audiences at San Francisco's War Memorial Opera House witnessed the American premiere of Nutcracker by the legendary composer Peter Ilyich Tchaikovsky.
With the instant sensational success, the ballet launched a national holiday tradition. And the dance goes on this season.
Watch the lights dim, the music soar, snowflakes swirl, flowers dance, and the little girl dreams about a whole new world as presented on the stage of the Nutcracker's magical production by the amazing choreographer Helgi Tomasson.
Don't miss this unique experience in San Francisco. Note: The first 500 children to arrive (ages 4-12) receive a special gift and everyone enjoys complimentary beverages and treats at intermission.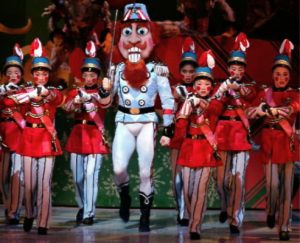 For 30 minutes only, starting one hour prior to curtain, Nutcracker characters are available for photos. Arrive early and bring your camera or your cell-phone.
Tickets and Information
Visit www.sfballet.org
415-861-5600
War Memorial Opera House
301 Van Ness Avenue in San Francisco
Photo courtesy of SF Ballet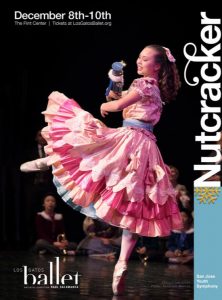 Nutcracker Unites San Jose Youth Symphony with Los Gatos Ballet
December 8, 9 &10 at Flint Center in Cupertino
Some dreams do come true. Just follow Clara, the Nutcracker's heroine, who enters a world of magic in the exhilarating production of Los Gatos Ballet company.
Experience the suspenseful battle with the Mouse King. Travel to the spectacular realm of the Snow Queen and on to The Palace of the Sugar Plum Fairy.
Let the superb dancing and Tchaikovsky's iconic score performed live by the San Jose Youth Symphony (SJYS) under the brilliant baton of Maestro Yair Samit captivate you and lead to a wonderful celebration of this holiday season with your friends and family.
To make it extra special enjoy a sweet and delicious visit to the "Peppermint Palace" located at Flint Center's Balcony.
Tickets and Information
www.losgatosballet.org
Peppermint Palace visit costs $15
Flint Center for Performing Arts
21250 Stevens Creek Boulevard in Cupertino
Photo courtesy of Los Gatos Ballet and SJYS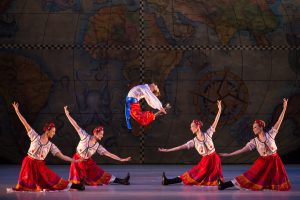 "It's a Wonderful Nutcracker" by Menlowe Ballet
December 8, 9 &10
December 15, 16 & 17
Inspired by Frank Capra's classic film It's a Wonderful Life, Menlowe's production, set in the 1940s, boasts all the imaginative trimmings of a traditional Nutcracker blended with surprising twists and a heartwarming message about family and what's truly meaningful about the holidays. "It's a Wonderful Nutcracker" premiered in 2015 and has been embraced by audiences for its warmth, humor, and unique storyline.
Choreographer and Artistic Director, Michael Lowe says, "I first watched Frank Capra's film It's a Wonderful Life over 40 years ago and was captivated. I felt that the movie's tone and story could translate beautifully into a new kind of Nutcracker that celebrated the best of both." Lowe collaborated with Artistic Associates Julie Lowe and Sarah-Jane Measor to craft the ballet's narrative. Set in the early 1940s in a fictional American small-town, the production honors many traditional elements that make Nutcracker a holiday favorite.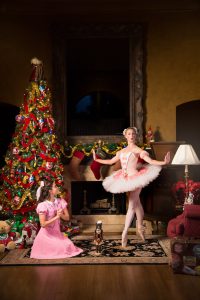 "However,"says Lowe, "our tale is refreshed with delightful twists and a heartfelt message illustrating that while giving and receiving "presents" is part of what makes the holidays wonderful, it's the physical "presence" of those who are important in our lives that imparts real and lasting meaning. And this season we have expanded the story to highlight the power of connection and generosity to overcome greed and divisiveness."
Based in Menlo Park, CA, Menlowe Ballet is a professional ballet company dedicated to bringing dance to audiences throughout the San Francisco Bay Area. Founded in 2011, the company performs works ranging from cultural to classical to contemporary. In addition to its artistic mission, Menlowe Ballet provides performing opportunities to aspiring students from Menlo Park Academy of Dance, the official school of Menlowe Ballet.
Tickets and Information
Prices range from $28 to $55
800-595-4849
www.menloweballet.org
Menlo-Atherton Performing Arts Center,
555 Middlefield Road in Atherton,
***** An abridged performance presented in a sensory–friendly environment for children and adults with developmental disabilities and their families takes place Sunday, December 10 at 11am. Tickets for the sensory-friendly performance are $20 per seat.
Photo courtesy of Menlowe Ballet