September 11, 1993
By YoIanda Reynolds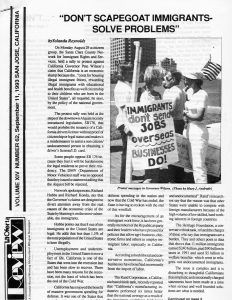 On Monday August 29, a citizens group, the Santa Clara County Network for Immigrant Rights and Services, held a rally to protest against California Governor Pete Wilson's claim that California is an economic slump because the, "costs for housing illegal immigrant felons, rewarding illegal immigrants with educational and health benefits as well citizenship to their children who are born in the United States," all required, he says, by the policy of the national government.
The protest rally was held at the steps of the downtown Alquist Building. Alquist recently introduced legislation, SB 176, that would prohibit the issuance of a California drivers license without proof of citizenship or legal status and makes it a misdemeanor to assist a non-citizen undocumented person in obtaining a driver's license/I.D. card.
Some people oppose SB 176 because they feel it will be burdensome for legal residents to prove their residency. The DMV (Department of Motor Vehicles) stall was so opposed that they issued a statement asking that the Alquist bill be rejected.
Network spokespersons, Richard Hobbs and Richard Konda, say that the Governor's claims are designed to divert attention away from the real causes of the economic crisis of the State by blaming it on the most vulnerable, the immigrants.
Hobbs points out that 8 out of ten immigrants to the United States are legal. He adds that less than 1.5% of the total population of the United States is here illegally.
Unemployment and underemployment in the United States is now a fact of life. California is one of the States that went into the recession last and has been slow to recover. There have been many reasons for the recession, not the least of which has been the end of the Cold War.
California has enjoyed the benefit of massive government spending for defense. It was one of the States that over the years, captured much of the defense spending in the nation and now that the Cold War has ended, the State is having to reckon with the end of that windfall.
As for the encouragement of an immigrant work force, it has been generally members of the Republican party and their leaders who have pressed for policies that allow agri-business, electronic firms and others to employ immigrant labor, especially in California.
According to both liberal and conservative economists, California's businesses have benefited enormously from the import of labor.
The Rand Corporation, a California based think tank, recently reported that "California's manufacturing industries performed six times better than the national average as a result of the immigrant workforce, both legal and undocumented." Rand's researchers say that the reason was that other States were unable to compete with foreign manufacturers because of the high volume of low skilled, hard working laborers in foreign countries.
The Heritage Foundation, a conservative think tank, refuted the charges of those who say that immigrants are a burden. They and others point to data that shows that 11 million immigrants earned $240 billion, paid $90 billion in taxes in 1991 and used $5 billion in welfare benefits – which went to refugees – not undocumented immigrants.
The issue is complex and it is disturbing to thoughtful Californians that simplistic and emotionally charged statements have been made at a time when serious and well-founded solutions are what is needed.
Interestingly, Governor Wilson proposes the passage of the NAFTA agreement in order, he says. "to secure the cooperation of the Mexican government in stopping illegal immigration on the Mexican side of the border." His targeting of Mexican immigrants for most of his comments is especially disturbing.
What Wilson does not address is the fact that the current agreements with Mexico, allowing the construction of Maquiladoras (factories) by American companies, has allowed the legal taking away of thousands upon thousands of jobs front United States workers. The exchange of such goods will be even greater after the agreement is signed. It is also well documented that these very companies are exploiting the Mexican workers by paying very low salaries, while at the same time disregarding environmental safeguards for workers and their communities.
Wilson claims, as do other proponents of NAFTA, that the agreement will result in the "export of goods not people." The fact is, Mexico is already one of the strongest partners and numbers among the few countries with whom the United States does not have a serious trade imbalance.
California Assemblyman Richard Polanco and the California Latino Legislative Council, counter that Wilson and other California legislators have no addressed the mal-distribution of the taxes collected in the State. Some legislators do not recognize that this is a major problem and they are trying to properly study this problem but many special interests, in particular redevelopment advocates and many California city governments and many other citizens are asking for a reordering of the State's policies regarding tax revenue distribution.
There were others who came to protest the rally and to support the Governor. Interestingly it appeared that the majority of such protesters observed by this writer were themselves recent immigrants, primarily European.
In the anti-governor protest the crowd was multi ethnic, including many European Americans and represented varied sectors of employment. The good will of many San Joseans, including homeless people and homeless advocates, demonstrated that many people here feel that the rhetoric directed against immigrants legal or undocumented is an attempt to draw attention away from the real issues.
Recently, California Latino political leaders issued a report entitled, "Making Immigration Policy Work in the United States.."
This group, included Senators Ruben S. Ayala, Charles Calderon, Art Torres, Assembly members, Joe Baca, Cruz M. Bustamante, Louis Caldera, Martha Escutia, Diane Martinez Hilda Soliz. Assembly member Richard Polanco was Committee Chair and Assembly member Grace Napolitano, was Vice Chair.
Their study pointed out that every large wave of immigrants has resulted in resentment. Records show that between 1880 and 1910, almost 18 million immigrants came to the United States. They say that, at that time, protests were made that those immigrants, mostly ltalian's, Germans Poles, Jews and Irish. "were considered inferior, and not likely to assimilate with their northern and western predecessors." Over time that resentment has vanished and these people are now accepted as vital, valuable US. citizens.
The committee report states that it was these newcomers who "provided a valuable source of labor, helping to build the country's infrastructure." Million immigrants who came to the United States had college degrees and have filled national needs for engineers, health care professionals, scientists, computer programmers, and managers.
The Committee report points out that, as the economy has worsened immigrants have become the focus of attention and more and more legislation is being proposed, even some that restricts the fundamental civil rights of U.S. residents.
According to San Francisco Chronicle writers, Suzanne Espinosa and Benjamin Pimentel, anti-immigrant fervor can be noted when the INS recently tried to arrest Eddie Cortez, the first Latino Mayor of Pomona Ca., San Francisco Board Supervisor Tom Hsieh and his wife were accosted by two "white" men who spat upon Hsieh's car, telling him and his wife "you Japs go home." Supervisor Hsieh is an American of Chinese ancestry.
To oppose the Governor's rhetoric and others who speak out on a similar vein, should not be interpreted as meaning that the protesters want unprotected borders.
Polanco and his group offered some concrete proposals to end the flow of undocumented immigrants.
This important group of California legislators ask that the penalties for smuggling be greatly increased, that governments exercise existing laws for the extradition of felons to their country of origin, improve the mechanism for IRS tracking of foreigners with U.S. visa holders especially those who enter because of their "special skills," enforce labor and safety standards in the workplace, increase INS staff to expedite the citizenship process, collect a $1 toll at the border to finance improved border control and a number of other suggestions relating to federal government policies and practices.
San Jose City Councilwoman Blanca Alvarado also spoke at the protest demonstration. Alvarado chided her fellow Democrats for taking what she felt was a politically popular stance and joining in on the bashing by trying to put the blame for the state's dire economic status on the immigrant, especially the Mexican immigrant.
For more information on this issue Richard Hobbs may be contacted at 944-0691 or Richard Konda at 287-9710. © La Oferta Newspaper.